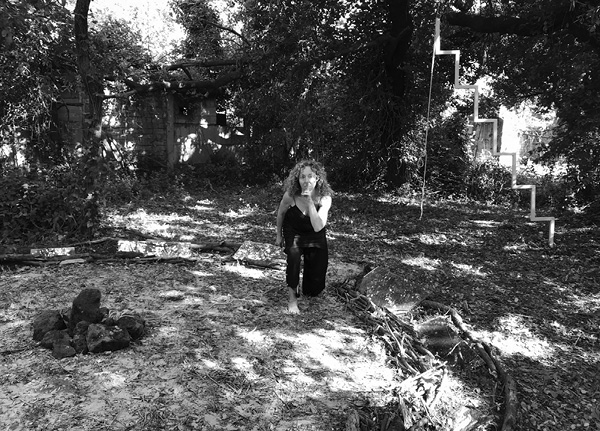 Luigi Montefoschi
LOVE AND GRIEF
first performed on May 23, 2018
XIV Land Art Campi Flegrei, Pozzuoli, Italy
performed once in 2018
GINNY SYKES
Luigi Montefoschi
Chicago, IL / Naples, Italy
143993760g143993760i143993760n143993760n143993760y143993760@143993760g143993760i143993760n143993760n143993760y143993760s143993760y143993760k143993760e143993760s143993760.143993760c143993760o143993760m
ginnysykes.com
LOVE AND GRIEF
GINNY SYKES
I created an installation and performance at the XIV Land Art Campi Flegrei, an independent contemporary art event. Invited artists were to call attention to the abandonment of cultural heritage of the site in their work's tone and specificity. The overgrown forested land was once used to quarantine animals from Africa before they were sold to rulers and wealthy families in Europe. Remains of outbuildings that housed the animals are like memorials in ruins. Situated between a lake and the sea, Campi Flegrei is near an ancient temple associated with the goddess Venus. All these aspects contributed to the work.
"Love and Grief "was a memorial tribute to Teresa Mangiacapra, a performance artist with whom I collaborated in Naples, Italy and a member of le Nemesiache, a feminist performance collective founded in 1970. Teresa died ten days before the installation and performance. Deeply connected to the sea, the divine feminine, nature, and all living creatures, her last unfinished work io sono un intero challenged false separations and binaries between all living beings. I invoked these ideas in my project.
We chose a site with a natural circular shape. Our ritual cleaning of its weeds and brambles became a sacred act, part of the performance, as were all our subsequent actions which took great physical effort. We hand carried in mirrors, a sculptural ladder, and clay powder from a considerable distance. We foraged for stones and wood to complete the circular altar of mourning. We dusted the circle floor's entire surface with the grey clay, a metaphor for spreading ashes. Mossy stones placed in the circle's center that we unearthed from the site suggested an archeological connection to the land. We embedded the mirror and wood in the earth at an angle to reflect the sky and trees above. The ladder soars upward in an infinite reach.
"Love and Grief" celebrated Teresa's magnanimous spiritual nature and love of movement as a way to be deep within the cyclical nature of life. I performed a dance ritual of grieving and tribute, using my intuitive connection to the site we had lovingly prepared. The dance was also meant to summon collective ancestral spirits and guide Teresa on her journey's next phase. The public was invited to enter and contemplate. The installation was left in situ to return to the earth as a body would return to dust, becoming itself artifactual evidence.