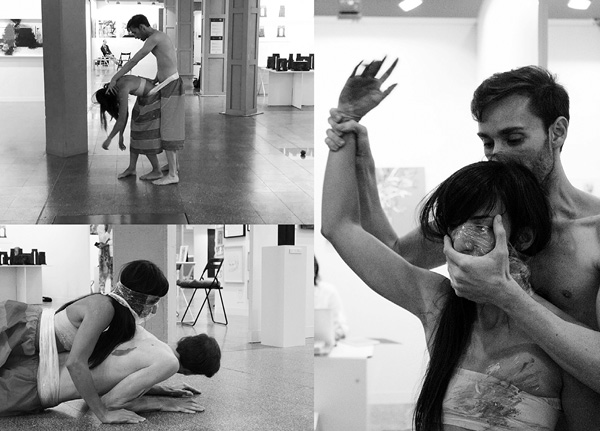 Jack Bernal / Samanta Mansino
PAN CON TOMATE Y TORTILLA
first performed on May 19, 2018
Centro de Congressos of Lisbon, Lisbon, Portugal
performed once in 2018
JACK BERNAL
Samanta Mansino
Barcelona, Spain
131589106j131589106a131589106c131589106k131589106@131589106j131589106a131589106c131589106k131589106b131589106e131589106r131589106n131589106a131589106l131589106.131589106c131589106o131589106m
jackbernal.com
PAN CON TOMATE Y TORTILLA
JACK BERNAL
"Pan con Tomate y Tortilla" (Bread with Tomato and Tortilla) is a personal reflection on the Spain-Catalonia conflict.
For about 25 minutes, and next to the artist Samanta Mansino, I wanted to show the tension of two opposing bodies, the confusion and chaos, and even the violence between two elements with different interests and opinions.
We started together, one behind the other, as I wrapped our bodies in transparent tape, creating more and more tension. We were very close, without the option of escape, and therefore obliged to understand each other. Then there was a "fight" between the two bodies, each pulling in opposite directions, creating uncomfortable and forced positions. We move through space, between columns, on the ground, all the while trying to escape from the situation we have ourselves created through sequences of repetitive movements and an exchange of positions of power.