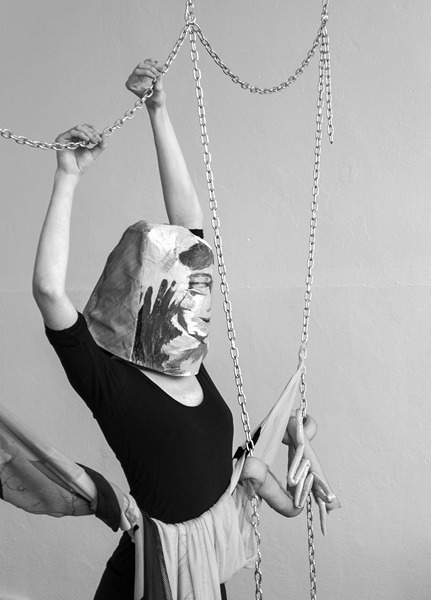 Ioana Stanca
SOFT RITUALS
first performed on May 13, 2018
Art Safari Bucharest, Bucharest, Romania
performed three times in 2018
IOANA STANCA
Iulia Maracine, Bogdan Teodorescu, Robert Dahlquist

118478273i118478273o118478273a118478273n118478273a118478273s118478273t118478273a118478273n118478273c118478273a11847827311184782730118478273@118478273g118478273m118478273a118478273i118478273l118478273.118478273c118478273o118478273m
ioanastanca.tumblr.com
SOFT RITUALS
IOANA STANCA
The everyday rituals, the specific activities, the sounds and smells from my artistic studio, were the starting point for my performance-installation "Soft Rituals." Two performers navigate their way through the maze of chains and stuffed textile objects—reminiscent of a hyper-zoomed piece of fabric—putting on masks, activating, biting, testing the possibilities of this ceiling-hanging installation. They are not only a metaphor of the idea of artistic creation happening in a confined space—that of the studio—but they generate a transmedial artistic product that evolves with each iteration, each representation, each new space they inhabit.
Rituals, prescribed by the traditions of a community, have always fascinated me, especially because they reflect the changing dynamics of a particular society. "Soft Rituals" started as an inquiry into the intimacy and the endless associations that I could generate in the space of my studio. It developed as a work in progress that lies at the crossroads of various artistic practices: constantly mapping the tension and synergy between the performers and the objects they interact with, as well as generating a personal research into sculpture, embroidery, installation, body movement, and sound.
The climax of "Soft Rituals," its most cryptic moment—the performers putting on the mask—questions the total immersion within the ritual and the installation's structure. The mask, an embroidered piece of fabric that I shaped in the form of a human head, has no holes for the eyes, disconnecting the performer from the outer world. Thus, with the performers becoming part of the structure, the ritual is completed.