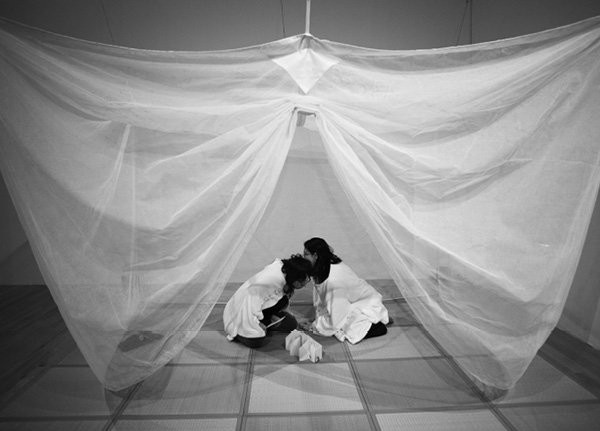 Anahid Ghorbani
THE BEDTIME BREATHING / READING
first performed on May 9, 2018
Glass Curtain Gallery, Chicago, IL
performed five times in 2018
KAZUMI SEKI
Chicago, IL / Yokohama, Japan

kazumiseki.com
THE BEDTIME BREATHING / READING
KAZUMI SEKI
"The Bedtime Breathing / Reading" is a participatory event which guides participants through a meditative reading of my contemplative installation.
As a part of my MFA thesis project [Arugamama]—a "socially engaged," life-sized book which includes an installation comprised of a tatami floor, words embroidered across garments, and a kaya (traditional Japanese mosquito netting)—I organized "The Bedtime Breathing / Reading" within my installation as a safe space as well as an opportunity for participants to be able to focus their "here and now," and to read their feelings and thoughts. Participants, in a sense, become additional pages of this book.
In "The Bedtime Breathing / Reading," I guided participants to focus on their bodily sensations at first. Then, I handed a note to each participant on which a question and an instruction for preferred reaction for the question were printed. Some participants followed the instruction, some didn't (I didn't force them to follow the instruction), and I left the space when all participants were considered to have shown their reactions. I left what would happen after I left up to the participants. Some started talking to each other, and some enjoyed the moment by themselves. Through complex situations created by the artist, each participant experienced a sense of individuality and "one of them-ness" with a feeling of "wakuwaku dokidoki," a Japanese onomatopoeia that describes the state of a beating heart, a mixture of excitement and a little anxiety, much as a child who is starting an adventure or the experience of a person who is going to open a treasure box.
Our sensations differ when experienced alone or with others—the feeling of being near others, even if there is no direct verbal communication, can have "presence" in our lives.
The concept "arugamama," also the title of the project, is a goal of Morita Therapy in psychology, which emphasizes the importance of accepting nature itself—including humans, the nature around us and animals. Arugamama is a kind of release from the ego, feeling the freedom simply "to be" rather than exist to be judged in a certain way.
I believe that feeling a sense of connection with others as well as one's own arugamama can help us to stay open-minded and coexist while respecting a diverse range of individualities.