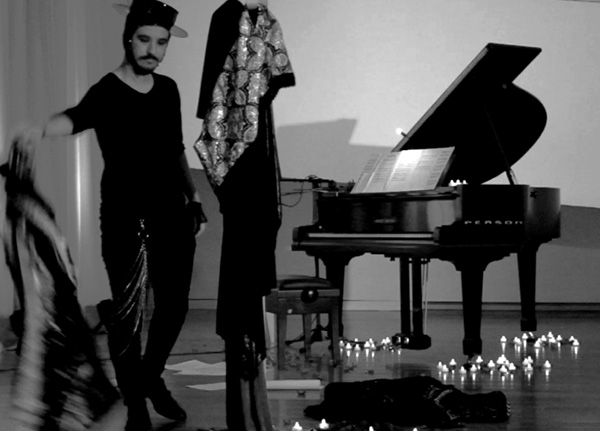 Luisho Diaz
EN/CLAVE POP: LIVE FROM POA
first performed on April 28, 2018
Iberê Camargo Foundation, Porto Alegre, Brazil
performed once in 2018
LUISHO DÍAZ
Montevideo, Uruguay
087883955l087883955u087883955i087883955s087883955h087883955o087883955.087883955d087883955i087883955a087883955z087883955@087883955g087883955m087883955a087883955i087883955l087883955.087883955c087883955o087883955m
EN/CLAVE POP: LIVE FROM POA
LUISHO DÍAZ
"En/Clave Pop: Live From POA" was a performance that followed the structure of a romance divided in five acts: love adrenaline, relationship goals, conflict, melancholy, and a way back into love. The museum was transformed into a venue for one night, and the public was invited to be part of an idyllic and intimate meeting with pop music.
The audience embarks on a theatrical journey through the latest pop hits. Every song is performed on the piano, stripping it down to a very raw and heartfelt rendition. Through interactions, scenography, several costume changes, and the music itself, people are persuaded and immersed in a pop-extravaganza environment where they are invited to believe that in front of them is the biggest star in the world.
The performance reflects on notions of stardom, fame, pop culture, self-fiction, social media, celebrities, and show business.