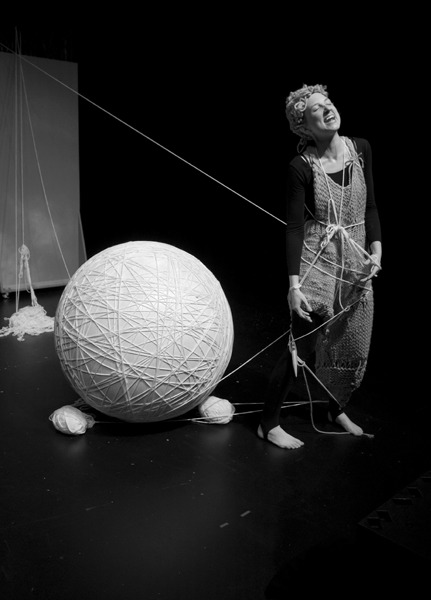 Joe Castor
HORSE PEOPLE
first performed on April 26, 2018
Towson University, Baltimore, MD
performed 21 times in 2018
LINDSEY GRIFFITH
Baltimore, MD / Kansas City, MO
986426084l986426084i986426084n986426084d986426084s986426084e986426084y986426084a986426084g986426084r986426084i986426084f986426084f986426084i986426084t986426084h986426084@986426084g986426084m986426084a986426084i986426084l986426084.986426084c986426084o986426084m
lindsey.zone
HORSE PEOPLE
LINDSEY GRIFFITH
"Horse People" uses absurd comedy to examine intergenerational trauma, family legends and mother/daughter relationships. I play four generations of strange women, beginning with an abstracted version of myself, Lindsey, who finds a cool rock and spirals into neurotic obsession. I try to solve the mystery of the rock's allure, sinking deep into the substance of the rock and my own memories of texture, food, and family. I try to recreate the rock with food so that I can eat it. I get confused. I get upset. I call my mom. "Before I call her, there's something you need to know about my mom," I warn the audience, "she thinks she's a horse." My mother, played by myself in a wig and googly eyes glued to my eyelids, appears through projected video. She introduces the family legend, that they are descended from horses, and specifically that her own grandmother was an actual horse. Communication with my mom deteriorates into a screaming match, and I'm driven to finally take a bite out of the sculptural food rock I've been crafting throughout the performance. "This is fucking disgusting." I frown as I leave in disappointment.
Next I play Grandma, who is an obsessive knitter. I roll out on a 4-foot ball of yarn, in a knit jumpsuit and yarn wig, and teach the audience how to knit through a full-body techno aerobic dance demonstration. "Loop, Forward, Loop, Counterclockwise, Release" becomes the mantra of Grandma's increasingly manic knitting lesson until she finally becomes completely wrapped up in yarn and must be cut free by an audience member. In return, she reveals to the audience that her mother was not a horse, but a failed vaudeville performer who was resigned to playing the back end of a two-person horse costume. "I've always wondered what it would be like for all of us if my mother was just . . . happy" she muses as she rolls off her giant ball of yarn with a crash. For the last moments of the performance, I transform into the fantasy vaudeville star that great-grandma never got to be, emerging as a deliriously happy tap-dancing horse.
In "Horse People," I show complicated women and their complex relationships with each other. I want to dig deep into how we are shaped by our families, and what we pass down to the next generation, by following the thread of obsession and neurosis up through the family tree.