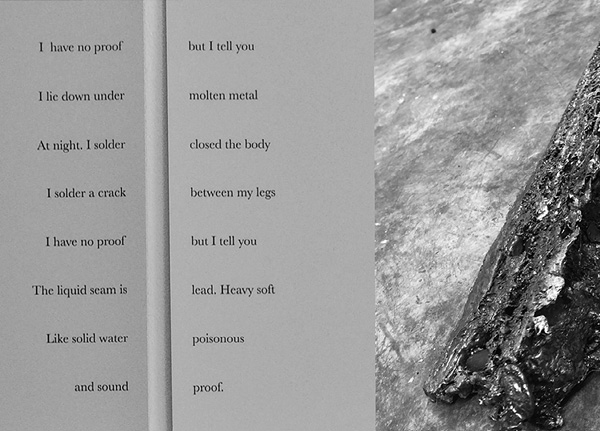 Sophie Leddick
SOLDER/I HAVE NO PROOF BUT I TELL YOU
first performed on April 25, 2018
undisclosed location / Sullivan Galleries, Chicago, IL
performed once in 2018
MAIREAD DELANEY
Marlboro, VT

vimeo.com/maireadgracedelaney
SOLDER/I HAVE NO PROOF BUT I TELL YOU
MAIREAD DELANEY
"Solder / I Have No Proof But I Tell You" is an unwitnessed performance which displaces the burden of proof from survivor and instead asks its viewer to evaluate the grounds for belief. The absent body, its deeds, and experiences are conjured in an intimate imaginary between text and lead. Those who encounter the work must conjure the space of the event in the face of its residue and test that evidence against their belief in the survivor's claim.
"Solder / I Have No Proof But I Tell You" makes lead performances which solder the body closed. These performances are soldered seams. They materialize and accumulate over many days, though the process of making—nightly durational performances—remains inaccessible. These seams are not inert artifacts, rather they live on in the installation space as continuous performances, testing belief.
Lead is very heavy and very soft. Its toxicity is invisible and cumulative. "Solder / I Have No Proof But I Tell You" demonstrates the task of the survivor made solely responsible for rendering their community accountable. The unwitnessed body attempts repair, protection and the self-fashioning of evidence. The seam and its accompanying text delineate a survivor's impossible choice between the risk of public excoriation or the corrosion of private erasure.