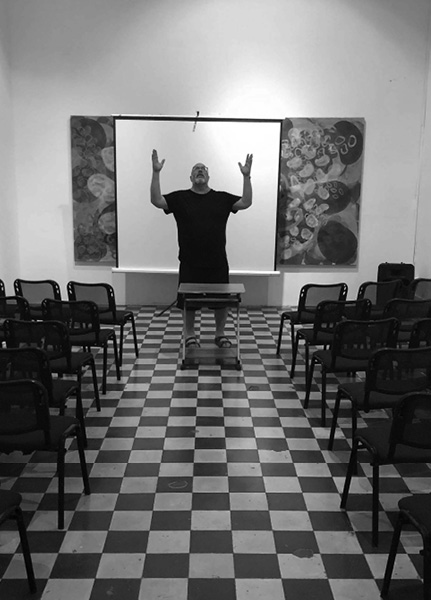 Chris Reeves
NOTHING FOR NOBODY
first performed on April 11, 2018
La Presentación Casa Museo Arte y Cultura, Cartagena, Colombia
performed seventeen times in 2018
ED WOODHAM
Brooklyn, NY
050515777a050515777r050515777t050515777i050515777n050515777o050515777d050515777d050515777p050515777l050515777a050515777c050515777e050515777s050515777@050515777g050515777m050515777a050515777i050515777l050515777.050515777c050515777o050515777m
edwoodham.com
NOTHING FOR NOBODY
ED WOODHAM
After unknown years of not planning, this was the first performance of an undeveloped series of lectures and informal talks about nothing to an audience of none. No time was spent in not creating a speech. Absolutely no thought went into not one thing. Unconditionally no effort was used to assure no one was present. A press release and a minor social media campaign to unannounce the non-event was sent nowhere.
At this inaugural non-being performance, I had nothing to say to this small empty gathering of no one. After not speaking for over an hour, it was obvious that no one was listening. Nobody felt nothing. I found a natural segue to stop—nothing short of miraculous.
At the end, no one ran up to me to ask nothing.
Regardless, I'm determined to attempt to not complete this work. Nothing for everybody.