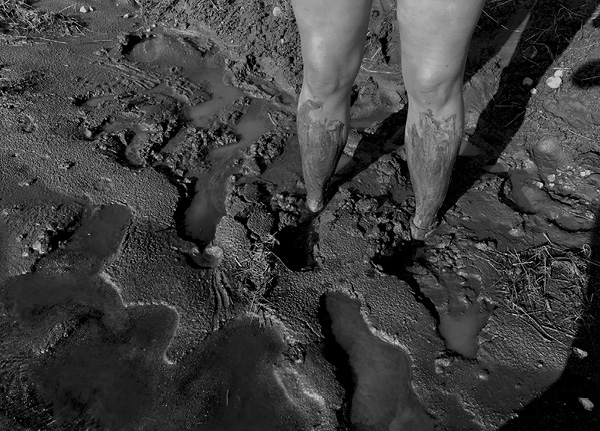 Natalie Marx
TRANSITIONS
first performed on April 7, 2018
Creation Lab at Double Edge Theatre, Ashfield, MA
performed once in 2018
MELISA FLOWER GLADNEY / NATALIE MARX
New Rochelle, NY / Ridgefield Park, NJ
046444639n046444639a046444639t046444639a046444639l046444639i046444639e046444639t046444639e046444639c046444639h046444639n046444639i046444639c046444639o046444639l046444639o046444639r046444639@046444639m046444639e046444639.046444639c046444639o046444639m
natytechnicolor.com
instagram.com/eldispensado
TRANSITIONS
MELISA FLOWER GLADNEY / NATALIE MARX
It was a crossroads, a meeting of two lines spontaneously creating a moment of intersection, like cells. It was an exploration of freedom. We both carried our own questions about what it means to be a woman—or how have we live our womanhood. We had a genuine curiosity and trusted in our instincts as women stepping into the land and allowing ourselves to experience without predispositions or baggage. The vagina mud, the sand drawings, walking along the edge of the ocean, the air and our hair both flowing.
This performance was a contemporary ritual documenting experience of life juxtaposed with the reimagining of ancestral feminist, nature-oriented rituals. These rituals help us reflect on who we are and how we feel in the world, how we exist.
"Transitions" corseted realities and contrasting juxtapositions. For future generations that don't read instructions, some knowledge is obsolete.
We sculpted material to leave a footprint as a way of making a memory, an image of freedom. We have been controlled. The two of us met without an agenda and just explored and gave credit and dignity to our own experience.
I am thinking about control and the ways that women are seen as uncontrollable creatures who leak. Women cannot control their own bodies—menstrual blood, pregnancy. And the man, this figure of control, chooses when he plants his seeds and where. Your humanity, your dignity, is beyond your gender. It is enough for you to have the right to express yourself and be free.