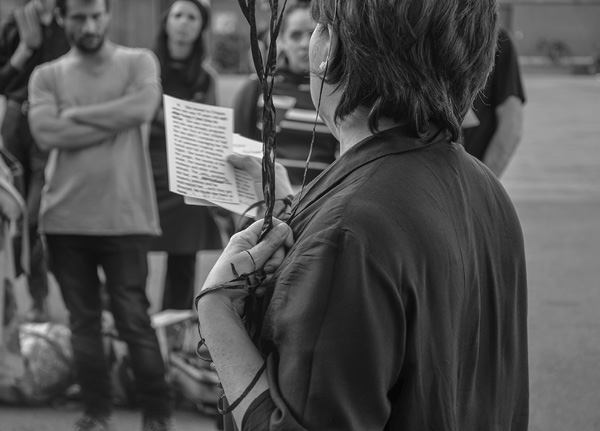 Markus Goessi
"I WAS BORN IN THE SOUTH" (PUSHPA, MEINE MUTTER UND ICH)
first performed on April 7, 2018
Ausstellungsraum Klingental, Basel, Switzerland
performed once in 2018
MARICRUZ PENALOZA
Zurich, Switzerland
039044588m039044588c039044588p039044588e039044588n039044588a039044588l039044588o039044588z039044588a039044588@039044588i039044588c039044588l039044588o039044588u039044588d039044588.039044588c039044588o039044588m
maricruzpenaloza.wordpress.com
"I WAS BORN IN THE SOUTH" (PUSHPA, MEINE MUTTER UND ICH)
MARICRUZ PENALOZA
"I Was Born in the South" was a political act, a tribute to my mother who was a fighter, a tribute to Pushpa, a good friend of family, from Punjab, and a tribute to all the women and girls—especially from Chiapas—who have been murdered.
I stood outside, in front of the art space. In one hand, I held pink balloons with black dots. In the other, I had my own texts written about my mother's life, Pushpa's, and my own. I read these texts in front of the gathered audience:
I grew up in the city that was supposed to be "the door to Mexico"—this was the slogan of the International Folk Festival to attract visitors from Central America.
My mother worked for many years with the women from the highlands in Chiapas. She worked in a variety of areas: sexuality, care, prevention, prophylaxis. She visited them once a month, and talked to them about their rights. This was very important to her because these women lived in extremely violent family conditions.
I grew up with three siblings.
It was 1997 when I read in the newspaper about the crime committed to 45 women, specifically pregnant women and children, in the highlands of Chiapas. All of them were of Mayan descent. These violent acts have not been clarified even after twenty years. The government has not made any declarations. The families are still waiting for an answer.
During that time, nobody spoke about "femicides." But now, we know the name of this atrocity. The murder of women by their husbands, boyfriends, or by unidentified men is called "femicide." It seems like nobody is interested in the life of these women and young girls. They were not really Mexicans, they were Indigenas. It seems like they only exist for the tourists, as a tourist attraction.
"I come from where life doesn't have any value, no value is given to life . . . " says a popular Mexican song.
When I finished reading the whole text, I asked the women from the audience to join me and release the balloons up into the air.