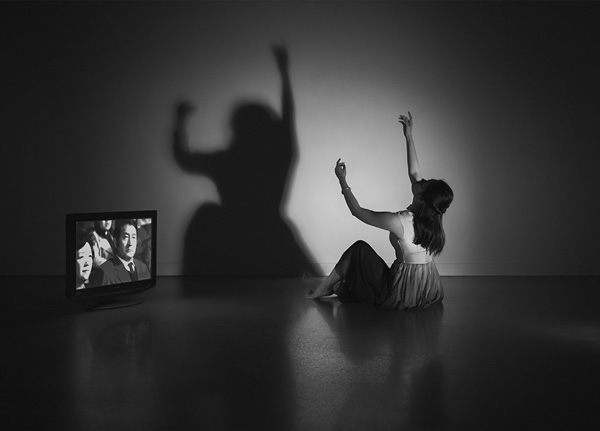 Luxin Zhang
ONE BILLION APPLAUSE, ONE VOICE; YI SHENG YI SHENG
first performed on April 6, 2018
THE POINT OF CONTACT GALLERY, SYRACUSE, NY
performed three times in 2018
LUXIN ZHANG
Philadelphia, PA
034969037l034969037u034969037x034969037i034969037n034969037f034969037i034969037l034969037m034969037@034969037g034969037m034969037a034969037i034969037l034969037.034969037c034969037o034969037m
luxinzhang.com
ONE BILLION APPLAUSE, ONE VOICE; YI SHENG YI SHENG
LUXIN ZHANG
The title "Yi Sheng" riffs on the different meanings of characters with similar pronunciation in Chinese: "Yi Sheng" means "one voice" and doubles as "one billion applause." I am interested in the relationship between performer and audience, and use both in harmony with one another; the sonic environment is created by both.
The video installation for this work is executed in two stages. First a TV, spotlight, and camera are all set in their fixed positions. I record myself performing together with the TV, on which clips of audience applause from CHUNWAN play. CHUNWAN (The Spring Festival Gala), is produced by China Central Television (CCTV) and has the largest audience of any entertainment show in the world. My performance is slow and deliberate. The sound of me singing "Lullaby" plays over speakers, and my body begins to move. When the applauding audience appears on the TV, it becomes harder and harder for me to get up. Suddenly, the applause is gone and there is silence.
Next, this performance documentation plays back. One projector is used to project the edited applause footage on to a large wall space. The audio plays from a speaker next to the projector. The images of the "live" audience members and their applause are magnified on the wall; audience members are not "hidden performers" on the TV anymore. The only thing that has changed is that I am no longer there performing in person with the TV.
In next phase, the "One Billion Applause, One Voice; Yi Sheng Yi Sheng" audience is invited to participate. The performance begins. Two chairs are placed against the wall (against which the applause footage is being projected) for audience members to sit in and watch the performance on TV monitors. Simultaneously, the applause imagery is also visible and audible, co-existing with the live audience in the space. The audience become the performer in this show.