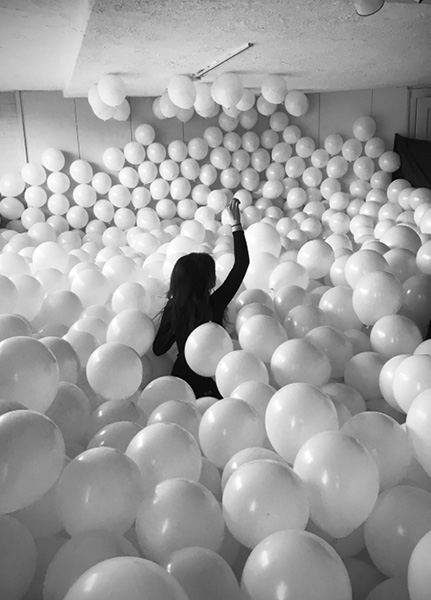 Chris Reeves
ESCAPE ORCHESTRA
first performed on March 17, 2018
Roman Susan, Chicago, IL
performed once in 2018
LAUREN SUDBRINK
Chicago, IL
015987220l015987220a015987220u015987220r015987220e015987220n015987220c015987220s015987220u015987220d015987220b015987220r015987220i015987220n015987220k015987220@015987220g015987220m015987220a015987220i015987220l015987220.015987220c015987220o015987220m
laurencsudbrink.com
ESCAPE ORCHESTRA
LAUREN SUDBRINK
"Escape Orchestra" is a durational performance in which I occupy the gallery space for the time it takes to complete the piece. I use the gallery space as my personal orchestra pit and blow up balloons until the gallery is full, from floor to ceiling. Once completely full of balloons I begin my escape, popping my way out of the balloon barricade I have breathed into existence around me. The performance itself is viewed from the window of the gallery, documented from within, with video and audio. Once I have completed my "Escape Orchestra," visitors may enter to experience the residual elements of breath and the former containers of the breath, and are encouraged to take a piece of the residue with them as evidence.
The first performance of "Escape Orchestra" took place over the course of four days. During the first three and a half days I occupied the gallery space blowing up over 3100 balloons with my own breath in order to completely fill the space. At the end of the fourth day the space was full and I began my escape, which, at a moderate pace, took roughly 45 minutes to complete.
"Escape Orchestra" is a meditation on repetitive, ritualistic performativity and residual elements of process. It is an investigation into visualizing and experiencing discreet sounds (and silence) as voice through the resonance of gesture and breath, while considering aspects of femininity and our current socio-political milieu. Via this lens, the work is an exercise and experiment on topics of endurance, boredom, and futility.