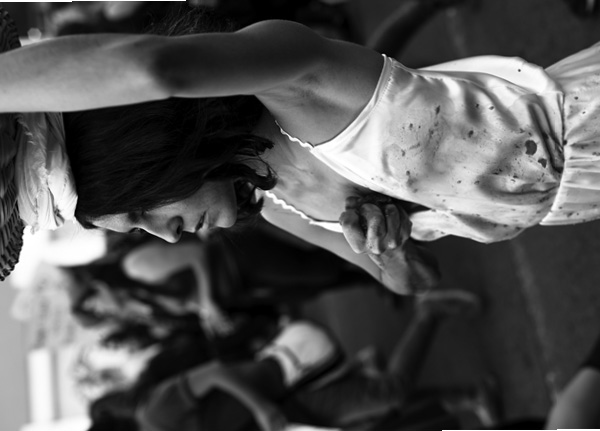 Pistor Orendain
YENDO AL MERCADO
first performed on March 8, 2018
the street, Guadalajara, Mexico
performed once in 2018
KIYO GUTIÉRREZ
Mexico

984020223g984020223k984020223i984020223y984020223o984020223@984020223h984020223o984020223t984020223m984020223a984020223i984020223l984020223.984020223c984020223o984020223m
kiyogutierrez.com
YENDO AL MERCADO
KIYO GUTIÉRREZ
I presented "Yendo al Mercado" (Going to the Market) on the International Women's Day March in the city of Guadalajara, Mexico. I carried a big basket on my head full of tomatoes. As the march progressed, I took one tomato and pressed it hard on my heart. The red meat and juice of this typical Mexican vegetable stained my white dress. I repeated the gesture over and over again until there was red juice on my face, my neck, my arms, my belly, my legs.
"Yendo al Mercado" was an action against gender violence and femicide. Jalisco is one of the top three states with the most femicides in Mexico. Violence against women originates from a context of impunity based on an inefficient criminal system that does not implement any special protocols to investigate cases of femicide. This action was a tribute and an homage to all of those women who have suffered machismo violence, and to the victims of femicide.
So that we can all come back safely from the market.