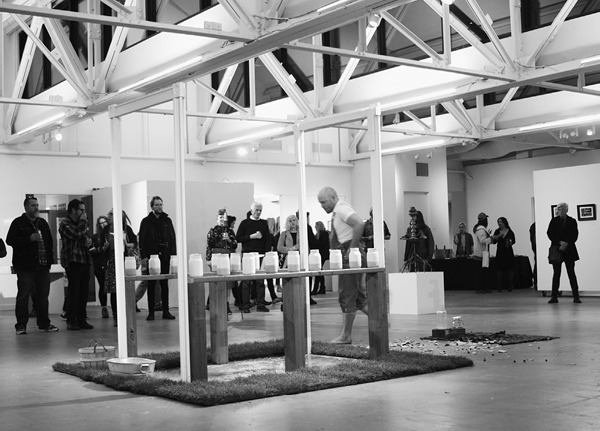 John Summerson
IT ALL BELONGS TO ANOTHER PLACE AND TIME
first performed on March 1, 2018
The Commons Gallery, Pacific Northwest College of Art, Portland, OR
performed once in 2018
NATHANIEL WYRICK
Asheville, NC
976028811s976028811t976028811u976028811d976028811i976028811o976028811@976028811n976028811a976028811t976028811h976028811a976028811n976028811i976028811e976028811l976028811w976028811y976028811r976028811i976028811c976028811k976028811.976028811c976028811o976028811m
nathanielwyrick.com
IT ALL BELONGS TO ANOTHER PLACE AND TIME
NATHANIEL WYRICK
"It All Belongs to Another Place and Time" was created from, and performed for, the exhibition prompt "A Sense of Place." Living and working in the Pacific Northwest at the time, I sought to consider my relationship to home, domesticity, work, and a removed regional identity of Appalachia.
I looked to create an installation that would evoke ideas of a home without the actual structure. Once built, I activated the space with a performance that would produce a change to the objects and structure over the duration of the exhibition—a way to hint at the passing of time, the settling of home space, and a lived-in experience. The structure consisted of two white door frames facing north and south. A series of connecting wooden posts and a shelf created two "walls" at waist height running between these door frames. Atop these shelves sat a row of slip cast and unfired mason jars running along both sides of this space, creating a hallway between the door frames. The structure was surrounded by grass. A steel bin full of milk and a jar of honey sat outside of the front door on a picnic blanket.
I entered the gallery to the sounds of Appalachian ballads. I carried a wooden basket filled with chamomile blossoms. I spread blossoms along the grass before entering the home through the back door. I placed a handful of blossoms in each jar and sat the basket in the grass outside the back door. I went to the picnic blanket, mixed the honey into the milk, and carried it to the front door. I took to my knees, submerged my head, and gulped in the liquid, holding it in my mouth. I stood up and spit the liquid into one of the jars in the home. I repeated this action over and over and over until all the jars were half filled with milk and honey. Once my work was completed, I lay inside the home while the jars gushed their contents all around me, exiting the gallery when the ballads were finished.
Time passed without a body moving through the home. It sat empty. The liquid dried up and soaked into the wood. The slip cast jars cracked, collapsed, and broke open. The grass surrounding the structure began to mold and rot. The home smelled of spoiled milk and decaying matter, but sweet chamomile lingered underneath.