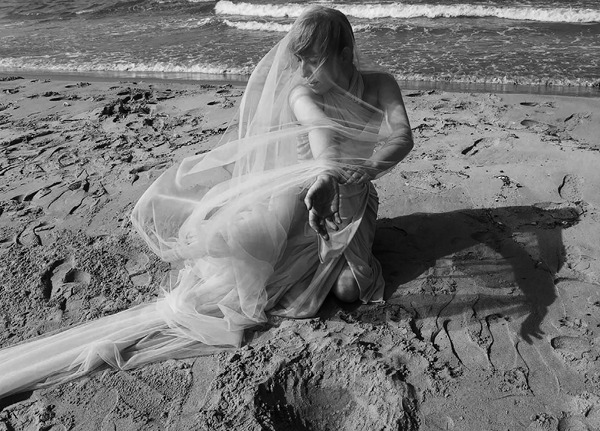 Ali Gülkanat and Ayça Ceylan
NYMPH
first performed on February 15, 2018
Kilyos, Rumelifeneri Castle, Coast of Sarıyer, Istanbul, Turkey
performed four times in 2018
AYÇA CEYLAN
Istanbul, Turkey

NYMPH
AYÇA CEYLAN
From Kilyos till Karaköy
I searched my home in all the coasts
In all the closed beaches
In all the closed coasts
Those made my home move far away
I am trapped in land
Any pink is my memory piece. . .
"Nymph" is a one-year-long performance on body-space construction from Kilyos to Karaköy. In the performance, the opening of beaches in Istanbul in the twentieth century and the subsequent closing of the majority of them in the 1970s are constructed through the "Nemf" (water fairy) persona of the performance artist.
Nemf is a water fairy that lands from Kilyos and meets their land acquaintances. However, when the beaches and the coasts are closed, they are trapped in the land. Each passing moment, the water nymph leaves memories bit by bit at various locations in the city, and conveys the importance of the beaches in terms of breaking the gender barrier and socializing alongside swimming. These memory transfers are archived via photos, videos, diaries, and various materials.
The Kilyos, Rumeli Feneri, and Sarıyer Center sections of the performance are completed.