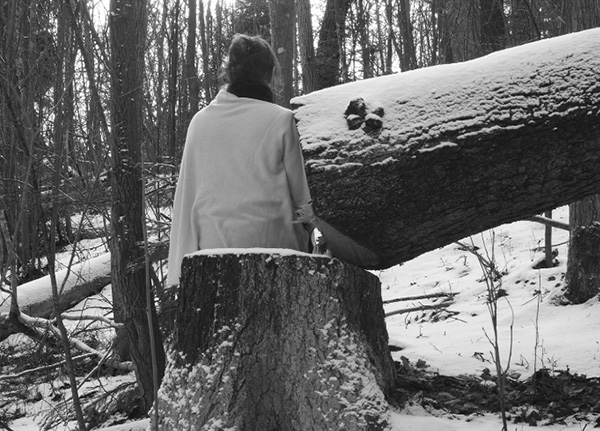 Annette Arlander
YEAR OF THE DOG IN LILL-JAN'S WOOD
first performed on February 14, 2018
Lill-Jansskogen (or Little-Jan's Wood), Stockholm, Sweden
performed 87 times in 2018
ANNETTE ARLANDER
two spruce stumps, two pine trees
Helsinki, Finland / Stockholm, Sweden

annettearlander.com
YEAR OF THE DOG IN LILL-JAN'S WOOD
ANNETTE ARLANDER
As part of the artistic research project "Performing with Plants" I chose to make repeated visits to a small wood in the center of Stockholm, performing for a camera on tripod with two spruce stumps and two pine trees. Lill-Jansskogen, or Little Jan's Wood, is situated behind the campus of KTH, or Royal Institute of Technology, and is part of a park, northern Djurgården. I chose four stops at which to pose for a camera on a tripod. The first spruce stump with the felled trunk still attached (see image) was complemented by a smaller stump among tall spruces further along the path. An old pine tree on the hill with a branch to hang from was complemented by a small pine to sit in nearby.
I visited these trees ideally three times a week (actually 99 times in all) during the Chinese year of the dog—that is, between February 14, 2018 and February 3, 2019. "Year of the Dog in Lill-Jan's Wood" was an echo or further development of some works I made in the previous year of the dog (2006-2007) sitting in a pine on Harakka Island or hanging from a pine in Kalvola, in Finland. Although my main aim was to perform for camera in order to produce rough time-lapse videos, I was inevitably performing for the passers-by as well, since the wood is very well frequented by people running, jogging, and walking their dogs. The dogs were especially interested in my unusual behaviour.
Through these repeated attempts at performing, posing, or appearing with trees, I attempted to explore how one could perform with plants while respecting their sense of time, and visiting them in their own place. Sitting on, or in, or with trees can of course be criticized for treating the trees merely as supporting structures, almost like furniture. And while swinging or hanging in the pine, the movement clearly foregrounds the human. Through the act of repetition, however, a specific type of bonding took place, which hints at the possibility of developing another kind of relationship to trees and to vegetation more generally.