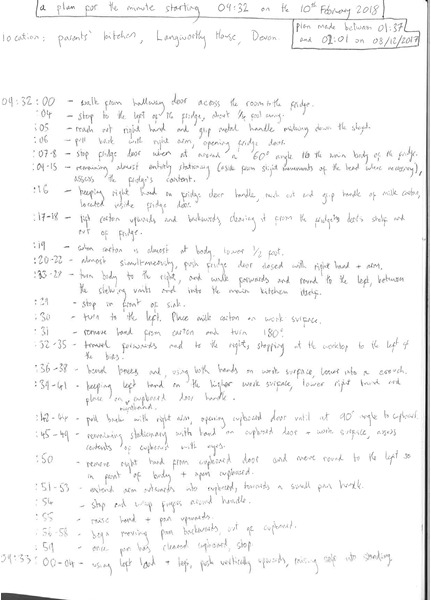 Jasper Llewellyn
A PLAN FOR THE MINUTE STARTING 09:32:00
first performed on the 10th February 2018
THE ARTIST'S PARENTS' KITCHEN, DEVON, UK
performed once in 2018
JASPER LLEWELLYN
London, UK
947628291j947628291a947628291s947628291p947628291e947628291r947628291.947628291l947628291l947628291e947628291w947628291e947628291l947628291l947628291y947628291n947628291@947628291i947628291c947628291l947628291o947628291u947628291d947628291.947628291c947628291o947628291m
jasperllewellyn.co.uk
A PLAN FOR THE MINUTE STARTING 09:32:00
JASPER LLEWELLYN
This was one of six "enactions" that I have carried out as part of one strand of an ongoing research-practice project (titled "Making Up Life: Improvisation, Freedom and Performance Art in Everyday Landscapes") that explores improvisation as a social process, as understood through performance art methodology and practice.
The broader research-practice project is concerned with improvisation's status as a key, constitutive process in the formation and actuation of everyday life, and develops upon existing multidisciplinary investigations of improvisation and the social sphere by practitioners such as David Toop and Danielle Goldman. The project seeks to provide an analysis of social improvisation orientated around, and understood through, performance art methodology and practice.
This strand of the project consists of the writing and enacting of scores for my actions in pieces of future-time, exploring how improvisation might be removed from the present moment. In one temporal moment I decide when, choosing a piece of time in the future—often something short like one and a half minutes—on a specific date. For this particular enaction, I chose the piece of time between 09:32:00 am and 09:33:04 am on February 10, 2018. Then I decide where, choosing the location where I will be for the chosen piece of future-time. For this enaction, I decided to be in my parents' kitchen. Then, I decide on what my gestures, conversational responses , and physical movements will be. Typically improvised, reactive social behaviours are pre-scripted, pre-constructed, and controlled to the best of my ability. Then, I learn the score while I wait for this scored, scripted piece of future-time to come about. Sometimes, I will have chosen a piece of time that is a year away so I will have to wait for a year, allowing time to pass and for myself and the world to change. For this particular enaction, I wrote the score on December 8, 2017, only having to wait two months until enacting the score. I will then enact the score, remaining as loyal to the written score as is physically possible, despite the likelihood that the temporalities of the various objects/people/places that form the present situation inside which I am enacting, will collide with my own, older temporality.
Generally, these enactions happen in everyday contexts, are undocumented (aside from the written score), and often are audience-less.