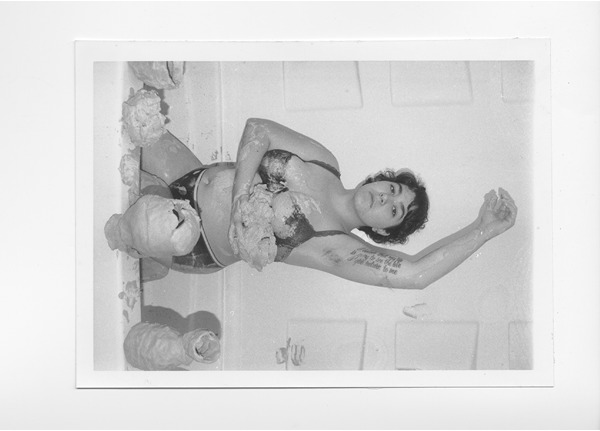 Magdolene Dykstra
BODY MENDS BODIES
first performed on February 7, 2018
1625 Grace Street (the artist's home), Richmond, VA
performed twice in 2018
JENNA ALDERISO
Bayville, NJ / Richmond, VA

jennaalderiso.com
BODY MENDS BODIES
JENNA ALDERISO
I don't see my body in society. My patient identity tends to exist in doctor's offices and hospital walls, but is left out of public view. It is ridden with misconception and stigma by able bodies. The patient is conditioned to be aware of the lament's comfort. Concealing a bandage, hiding medication in a drawer, we trade our discomfort for their comfort, while slowly losing part of ourselves in the process. The only place I've seen my body represented without misconception is in the field of performance. It is the only viable medium for this work as it has the ability to exercise the capabilities of the body while simultaneously discovering its limitations.
In "Body Mends Bodies," I choose the representation of my patient body. I remove myself from a medical context by inviting the viewer into my most intimate space, the bathtub. I wear the bath water as a blanket and submerge unfired, dry clay vessels close to my body. We soak together, and little by little our skin discolors the water with dirt.
The water begins to hydrate the vessels providing malleability, and then within a matter of seconds, breaks them down to mud. This duality of water being the source and demise of life is critical to the clay, human body analogy. I salvage what I can, piece by piece, I attempt to repair the forms as an ideal doctor, full of compassion and consciously aware of tenderness. I lift the vessels into the air and water begins to pour out of their cracks and holes, they are weeping, they are bleeding, they are screaming.
I attempt to heal while my body continues to destroy. I see the involuntary changes of my body. The redness around my open wounds, the deformity that comes with severe scar tissue; I grieve my body, and acknowledge I am no longer this body. It becomes clear—the answer isn't to mend the old form, but to reconstruct a new body from what is left. While society may deem it undesirable or abject in sight, here I am creating visibility for the body I am told to shame. As I hold a misconfigured vessel, I raise my arm revealing the inflamed wound that is slowly becoming a scar, no bandage, no garment to conceal, my patient body in space. My body goes from a medical object to a work of art.