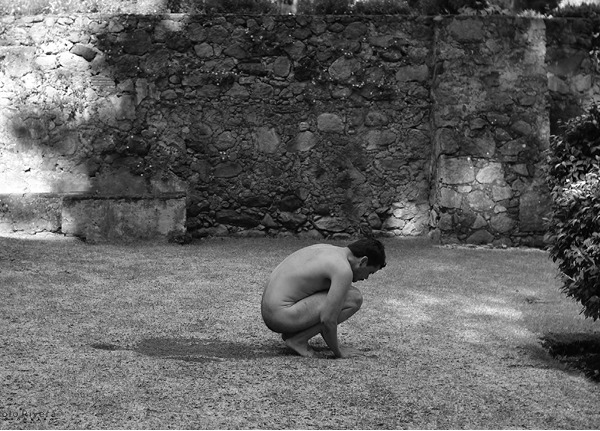 Polo Rivera
DEMARCACIONES
first performed on January 30, 2018
Desierto de los Leones Park, Mexico City, Mexico
performed once in 2018
MAX PROVENZANO
Biósfera Experimental, Esmeralda Pérez, Polo Rivera
Lisbon, Portugal
278598905d278598905e278598905s278598905a278598905r278598905m278598905a278598905r278598905l278598905a278598905m278598905a278598905k278598905i278598905n278598905a278598905@278598905g278598905m278598905a278598905i278598905l278598905.278598905c278598905o278598905m
maxprovenzano.tumblr.com
DEMARCACIONES
MAX PROVENZANO
The cold has become an invasive and paralyzing imposition. I think about my actual conditions: I am alone in a distant country; I have left everything behind; I have become an immigrant from a country that disappeared and disappears every day, generating a multicolored death. "Demarcaciones" is a derivation of my (im)portar project, and arises as a result of a need for isolation and reflection.
Demarcate my body, leave a mark on the thought.
My body lies on a layer of snow. It is the first contact I have with snow; I come from a Caribbean country. The low temperature slows down my movements and my thoughts, and I only see the sky—a gray sky that covers all the events of the moment. I am thinking of the "Thermal Death of the Universe" and how a corollary remains in force with this action. My body gives heat to the environment. The flow of heat goes from the bodies of higher temperature to those of lower temperature—it seems an obvious statement, but I feel it is part of the experience. I make a series of movements to feel parts of my body that I stop feeling as a result of the cold again. I cry without wanting to cry, to be part of the environment and leave a mark for my transit. My increasingly slow thoughts are diluted in my mind, in the air that I can not inhale and exhale. My body is the border that delimits the immediate space, temperature is a result of reality of being alive.
A total of four locations in the natural spaces surrounding the ex-convent of Los Leones Desert were part of this intervention.