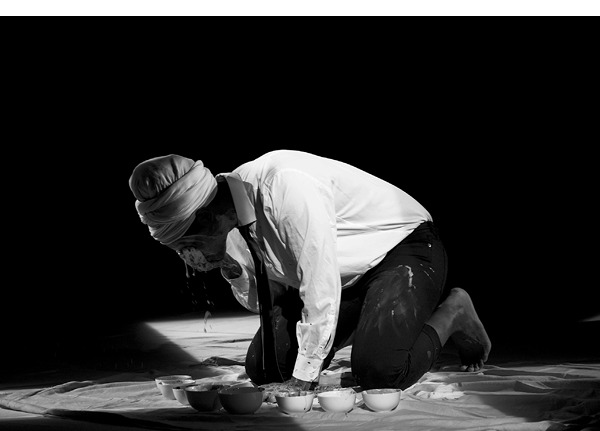 Cameron Kelly
EVIL NIGGER: A FIVE-PART PERFORMANCE FOR JULIUS EASTMAN
first performed on January 19, 2018
The Kitchen, New York, NY
performed once in 2018
JEREMY TOUSSAINT-BAPTISTE / LAMONT HAMILTON
Andre Zachery, Shantelle Courvoisier Jackson, Nyugen Smith
Brooklyn, NY

EVIL NIGGER: A FIVE-PART PERFORMANCE FOR JULIUS EASTMAN
JEREMY TOUSSAINT-BAPTISTE / LAMONT HAMILTON
"Evil Nigger: A Five-Part Performance for Julius Eastman" was an iterative, multilayered performance in the spirit of avant-garde composer Julius Eastman. The performances featured the duo sequentially performing all five of their previously staged "parts" of Julius Eastman's 1979 composition "Evil Nigger" as a 24-hour interpretive cycle.
The performances were composed as a fugue. Each part contained motifs initiated in the former which, in turn, were taken up and advanced by the latter. For instance, "Evil Nigger" Parts One, Three, and Five contained a visual through-line of a draped central figure or spectre which is animated by an interchange between the parts. Hamilton's body is centered in Part One, and Toussaint-Baptiste provides the sonic atmosphere. In Part Three, Toussaint-Baptiste accompanied by Andre Zachery take stage as the draped figure and Hamilton via sampling and synths creates sonically. Similarly, "Evil Nigger" Parts Two and Four are drenched, literally, in paint. In Part Two, Hamilton paints his face over and over until his excessively covered face and torso mirror Toussaint-Baptise's overbearing frequency droning. In "Evil Nigger" Part Four, Nyugen E. Smith and Shantelle Courvoisier Jackson perform with the paint as a duet and further the ritualistic performance initiated by Hamilton. Smith and Courvoisier Jackson paint one another's face while chanting a score prompt given by Toussaint-Baptiste.
The work ran continuously from Friday to Saturday, with five publicly accessible segments opening in parts throughout the 24 hours at The Kitchen.