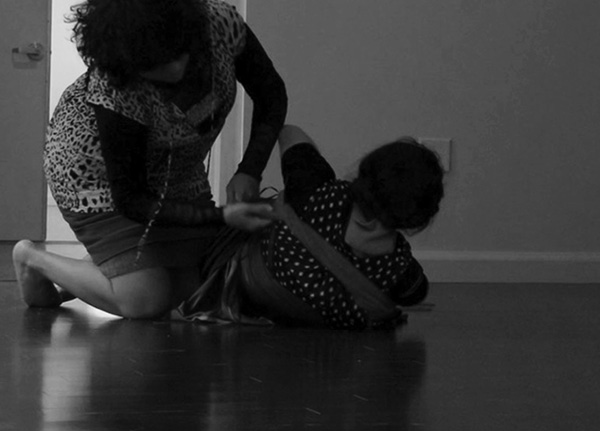 Kate Alexandrite / Zut Lorz
UNTITLED: THERE ARE THINGS WE'VE NEVER IMAGINED
first performed on January 13, 2018
Vincent Price Museum, Los Angeles, CA
performed once in 2018
IRINA CONTRERAS / E. STEPHANIE GONZALEZ
Los Angeles, CA / Phoenix, AZ
893628560i893628560r893628560i893628560n893628560a893628560a893628560m893628560b893628560r893628560i893628560z893628560c893628560o893628560n893628560t893628560r893628560e893628560r893628560a893628560s893628560@893628560g893628560m893628560a893628560i893628560l893628560.893628560c893628560o893628560m
cargocollective.com/iacstudios
UNTITLED: THERE ARE THINGS WE'VE NEVER IMAGINED
IRINA CONTRERAS / E. STEPHANIE GONZALEZ
"Untitled: There Are Things We've Never Imagined" is a performative triptych project exploring time, language, and queer brown LA. Utilizing personal archives including interviews, testimonies, and documented gatherings at queer spaces and conferences collected over two decades, "Untitled" provides a view of 1990s-2000s queer brown Los Angeles alongside Laura Aguilar's photographic series capturing the queer El Sereno bar called the Plush Pony. The Plush Pony—a place of belonging and home to so many living on the margins of mainstream society—disappeared like most homes for the disenfranchised, the working poor, queers, and others.
As part of the Cuerpos Unidos event, I collaborated with performance and installation artist E. Stephanie Gonzalez in two of the three parts proposed in this triptych. The first part was a live performative reading featuring excerpts from a short story I authored which explores the near future in Los Angeles, in which a group of QTIPOC affected by sexual and gender-based violence have come together to form a collective and establish a safe house. The story was read forward, and then it was read "backwards," in order to highlight what we think of as counterintuitive and to draw attention to chronological logics of safety and communal security. The second part utilized a projection of a lookout point on a hill overlooking east, south, and west LA. Situated directly above my home in Lincoln Heights, this hill has been the site of shifting cultural and political meanings, as well as economic value, due to ongoing gentrification attacks on working class racialized neighborhoods. In this piece, Stephanie and I exchanged the outfits we wore in ways that was at times intimate and at other times ambiguous, and also aggressive and potentially violent. The third part of the triptych was a game engaging audience members.
Meeting the parameters of Laura Aguilar's oeuvre, Stephanie and I used the opportunity to explore and experiment with what we understood as the unconditional. For me, Laura's work led me to remember what it means and feels like to be in my own body, even if at times it feels unsure or unsafe. Most of all, it led me to push forward, outwards, inwards, and all around, into dimensions unrecognizable to even myself.