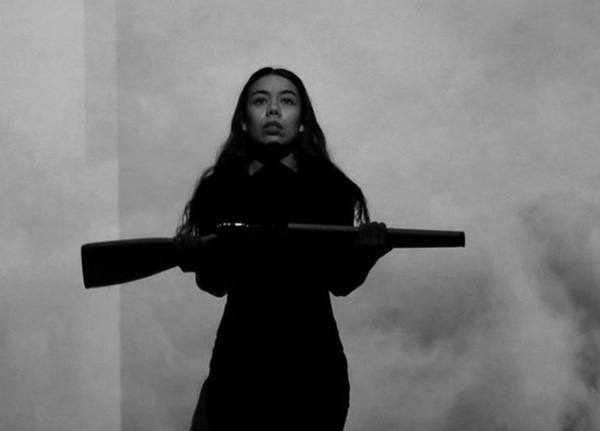 Kate Alexandrite / Zut Lorz
DON'T TELL ME ART DOES NOT MOVE US
first performed on January 13, 2018
Vincent Price Art Museum, Monterey Park, CA
performed once in 2018
CINDY VALLEJO
South Central, CA

cindyvallejo.com
DON'T TELL ME ART DOES NOT MOVE US
CINDY VALLEJO
"Don't Tell Me Art Does Not Move Us," was inspired by the work of Laura Aguilar titled "Don't tell her art can't hurt her." I began to think of the state of mind and how powerful emotions can drive our thoughts so that we feel things like pain, joy, power, disappointment, and sadness. In relation to this, I thought of the work's title and how true this statement is in regards to art as a tool. I wanted to tap into the several emotions that drive us to take part in marches and protests that highlight not only our own individuality, but also the unity of individuals. Voices and noises of the past and present fade in and out to recreate the "presence" of powerful moments that we all have either personally witnessed or experienced second hand. This piece was created as a response to the pain in the world today. As we see lives quickly being taken away, abused, disrespected, and unappreciated. To put across this pain in our hearts from what we see and experience but also put forth the realization that there is so much strength in love and empowerment. It's all around us and we must remember to take that away from every experience.
The performance was in a backroom of Vincent Price Art Museum. Behind me a stitched video clip played, beginning with flashing blue, red, and white lighting. A voice began to say, "We are tired! Black, White, Brown, Brooklyn, Muslims, and Everybody. . . ." At the same time, I was standing in front of the projection spinning a white rifle. Then clips of Indigenous, Indian, and Women's Marches moved with a drum beat, as I continued rifle spinning. The audience sat and stood in the darkness in front of me as the sound was cut. At that moment I lay the rifle on the ground and began my spoken word piece. My tone started low but gradually began to rise, although I brought it back down between pauses. I ended the piece with my fist in the air, chanting:
"We will demand
Demand that our voices be heard
Demand that justice be served
Demand that our lives be our own
Demand that we all . . . .lift up.. and take a stand!"
My back was towards the public at that point, and I began to walk towards the white light. I stopped inches from the wall with my fist held high, and paused for a minute. Finally, I walked away, leaving the rifle on the floor surrounded by lit candles and the white light behind it.