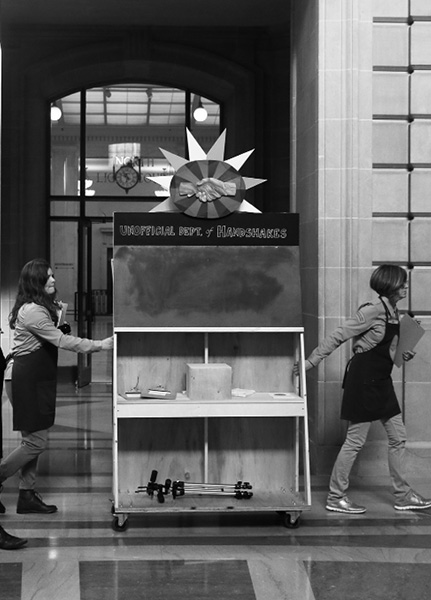 Jessica Christian / San Francisco Chronicle
THE UNOFFICIAL DEPT. OF HANDSHAKES (UDOH)
first performed on January 12, 2018
San Francisco City Hall, San Francisco, CA
performed four times in 2018
HANNAH IRELAND / ALISON PEBWORTH
San Francisco, CA

THE UNOFFICIAL DEPT. OF HANDSHAKES (UDOH)
HANNAH IRELAND / ALISON PEBWORTH
"The Unofficial Dept. of Handshakes" (UDoH) was an improvisational investigation into the gesture and negotiation of one of the few cross-culturally and internationally recognized forms of touch between strangers: the handshake. This investigation took place during a month-long occupation of an unused kiosk at the west entrance of City Hall.
San Francisco's City Hall serves as a hub for many forms of civic engagement including public hearings, protests, and citywide decision-making. This historic building—also an important site for the national gay marriage movement and tourism—attracts a steady stream of people of all political and sexual persuasions, cultures, and ethnicities. For our playful and performative take on a city department, "The Unofficial Dept. of Handshakes" took the idea of civic engagement and stripped it down to its most elemental form—clasping hands with a stranger.
Posing as uniformed city employees, we wheeled a mobile research unit around the grand foyer of San Francisco's City Hall as "The Unofficial Dept. of Handshakes" for a full workday each week in January. In these assumed roles, we took surveys, collected handshake stories, and investigated the etiquette, meaning, and cultural bias surrounding the different forms of handshakes. We invited further participation by connecting strangers and teaching the Official Unofficial Dept. Handshake, an eight-step handshake we created parodying the seal of The City and County of San Francisco. A research station on one side of the mobile unit, when reversed, became a photo station with color backdrops for documenting the many handshakes we facilitated between strangers.
When we were not on site, the mobile unit was stationed as a sculptural centerpiece within the round kiosk at the west City Hall entrance. People could engage with the UDoH through questions and surveys, and read submitted stories collected and displayed throughout the month.