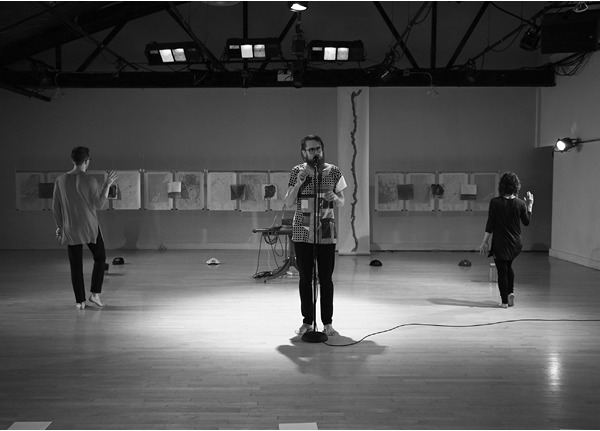 Drew Angle
THE NEW PRAIRIE SCHOOL
first performed on January 12, 2018
Links Hall, Chicago, IL
performed four times in 2018
COREY SMITH
Perry Maddox, Ethan T. Parcell, Rebirth Garments, Claire Saxe, Giau Truong
Chicago, IL
874551503c874551503o874551503r874551503e874551503y874551503.874551503d874551503o874551503u874551503g874551503l874551503a874551503s874551503.874551503s874551503m874551503i874551503t874551503h874551503@874551503g874551503m874551503a874551503i874551503l874551503.874551503c874551503o874551503m
coreyds.com
THE NEW PRAIRIE SCHOOL
COREY SMITH
"The New Prairie School" is an attempt to reconcile the space between Frank Lloyd Wright's mythology and his actuality, between the idea of regionalism as a conservative force and its potential as a radical political orientation, and between the practices of architecture and performance.
The 90-minute performance-essay is a collage of electroacoustic music, movement, and monologue. The three performers present—among other things—an architecture lecture, a sound-poem reconstruction of a Frank Lloyd Wright essay, the history of the 1892 takeover of the Kansas state legislature by the Populist Party, and a story about the collapse of a fictional Frank Lloyd Wright building in Kalamazoo, Michigan. These texts, histories, and stories are accompanied by electronic music (controlled via playback on a laptop computer) and dance (derived from the geometric forms of Wright windows and flag semaphore).
The piece finds conceptual grounding in Wright's ideas of organic architecture—an architecture built into, not simply on top of, the land. "The New Prairie School" hopes to argue for a place-based practice of artistic (as well as social and political) engagement.