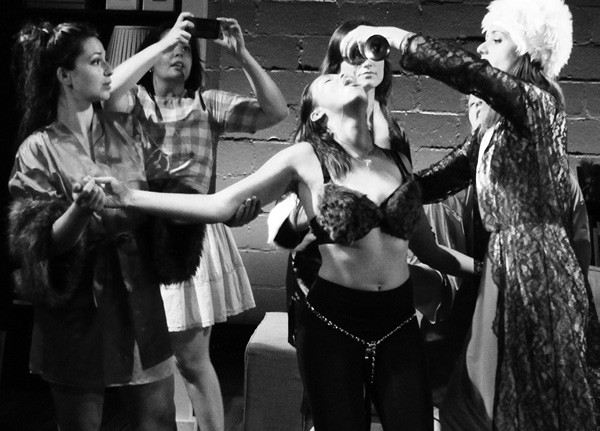 Ben Vigus
#LIBERATED
first performed on June 3, 2016
IRT Theater, New York, NY
performed sixteen times in 2016
THE LIVING ROOM / JAKI BRADLEY, AMANDA CULP, ZOE SOPHIA GARCIA, RACHEL KARP, MARIANNA MCCLELLAN, LILLIAN MEREDITH, MAGGIE RAYMOND, GABBY SHERBA
Brooklyn, NY
585428484r585428484a585428484c585428484h585428484e585428484l585428484g585428484k585428484a585428484r585428484p585428484@585428484g585428484m585428484a585428484i585428484l585428484.585428484c585428484o585428484m585428484 585428484/585428484 585428484l585428484i585428484l585428484.585428484m585428484e585428484r585428484e585428484d585428484i585428484t585428484h585428484@585428484g585428484m585428484a585428484i585428484l585428484.585428484c585428484o585428484m
rachelkarp.com
liberatedproduction.html
#LIBERATED
THE LIVING ROOM / JAKI BRADLEY, AMANDA CULP, ZOE SOPHIA GARCIA, RACHEL KARP, MARIANNA MCCLELLAN, LILLIAN MEREDITH, MAGGIE RAYMOND, GABBY SHERBA
"#liberated" is a dark comedic play that starts out in an apartment with six fast-talking, Instagram and Tinder-using Brooklynites, who quickly get pushed down the rabbit hole, into the internet's disturbing and dangerous underbelly.
The performance follows the members of the Sister Support Group for the Daily Trials of Being a Woman. Every week, the twenty-something female-identifying members meet to eat takeout, drink wine, do Zumba, and rehash their experiences of the past seven days, within the frame of a feminist lens. Topics of discussion include misogynistic advertising, pitfalls of online dating, and difficulties with sex in a world obsessed with porn.
When they realize just how many of their 'trials' can be traced to porn, they start to imagine porn that would be empowering, and realize that those are porn videos they really, really want to make. Not having any previous porn-making experience, they fumble through initial attempts but ultimately make videos of which they are extremely proud. So proud, that they decide to post them online. They are launched into virtual fame, complete with devoted fans and aggressive internet trolls. The group fights back against the trolls, making more porn videos that mock them. Their national acclaim rises, but so does the intensity and viciousness of the troll attacks, until they must fear for their safety not just online but in real life.
The Living Room, an ensemble of eight theater artists dedicated to making work about the contemporary American female, made "#liberated" to explore the effects of internet porn on women and sex today, and the various ways that trolls, usually men, use the internet to attack women.