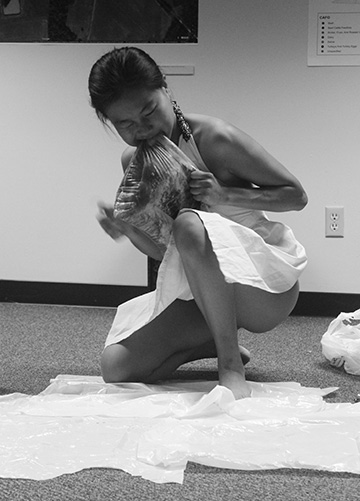 Rachel Merriman-Goldring
GOOD? FOOD? RESPONSIBILITY!
first performed on October 20, 2015
CAFO Culture: Visualizing Factory Farming in Virginia exhibition, Williamsburg, VA
performed once in 2015
ADA XIAOYU HAO
Williamsburg, VA

adahao.com
GOOD? FOOD? RESPONSIBILITY!
ADA XIAOYU HAO
Good? Food? Responsibility!
"Think, dream, and act according to what they eat and drink." Ever since Filippo Tommaso Marinetti's Futurist manifesto, there have always been aesthetic associations between food and culture.
For this performance piece, I used the structure of the art gallery and certain conventions of eating as an outlet for investigations into everyday life situations through a level of abstraction, exaggeration, and absurdity, which are alternative models for substituting relations between human and animal, the individual and society.
I am hosting a dinner party in the gallery.
Captain Smith and Pocahontas

had a very mad affair

Playing Peggy Lee's song Fever from my phone, I used my eyes, nose, lips, limbs, and each inch square of my body to enjoy, to dance with and to present this pile of fleshy meat, which I had brought onto the "stage" in a grocery shopping bag. Toward the end of the performance, after collecting preferences from the audience, I prepared this beef tartare with conventional cooking methods, beginning with the seasoning.
To pepper the food, I prepared it with flavors from the social sphere (like ecological protests and (u)topian ideologies of factory farming), and I adapted the advertising slogan from a popular meat production brand in order to present to you "Good? Food? Responsibility!"