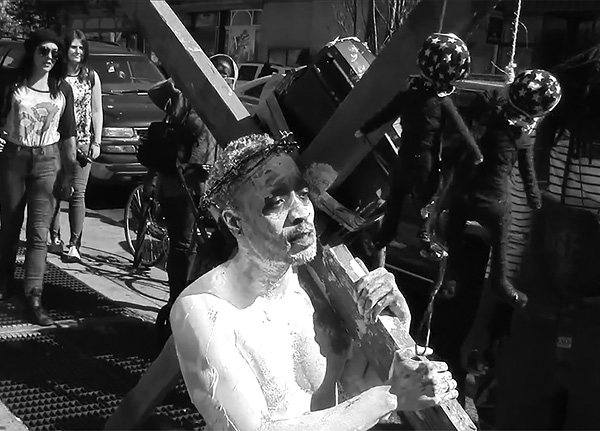 David Ian Griess
I HAVE A DREAM: THE INVASION OF THE BOOM-BAP
first performed on May 23, 2015
Fulton and South Oxford Street in Brooklyn, NY
performed once in 2015
PREACH R SUN
Brooklyn, NY
397685076p397685076r397685076e397685076a397685076c397685076h397685076r397685076s397685076u397685076n397685076@397685076I397685076A397685076M397685076F397685076U397685076G397685076I397685076T397685076I397685076V397685076E397685076.397685076c397685076o397685076m
iAMFUGITIVE.com
I HAVE A DREAM: THE INVASION OF THE BOOM-BAP
PREACH R SUN
One day a good white master who exercised a lot of influence said to his friends, 'Let's be kind to the niggers.' So the white masters grudgingly decided to raise the animal-machine man to the supreme rank of man.

— Frantz Fanon
It is the black body that still bears the millstone of (white inflicted) otherness. The black body—trapped in a position of inferiority, negated, objectified, and stripped of its humanity—longs for white acceptance. The black body, broken and dismembered, is still crying out and begging for white recognition. The black body—damned and cast outside of "god's" grace—dreams, solely of white salvation.
On May 23rd, 2015, I performed a public action on the streets of Brooklyn, NY. Dressed in a black suit I, kneeling (on the sidewalk) in front of a closed and boarded storefront, commenced to spit up bloody bullet casings (onto a white sheet) while simultaneously crying, "PLEASE NIGGERS." I then stripped down to my underwear and stepped into a large washtub. Once in the tub I poured a mixture of white milk and paint over my body. The paint mixture was poured from milk cartons. Pictures of black leaders and freedom fighters (e.g., Martin Luther King, Assata Shakur and Malcolm X) were displayed on each carton with the word, "MISSING" printed underneath. I covered my entire body with the white paint mixture. Then I took a large wooden cross and nailed to it: two rope nooses from which hang two brown dolls (made out of two yarns with American flag covered heads). I also took a large boom box (radio) and taped it to the cross. Finally, I placed a crown of barb wire upon my head and commenced to crawl on my knees whilst—lead by (artist/bell ringer) Yon Tande—dragging the large cross; from which dangled the two lynched dolls. All the while music and speeches delivering messages of Black liberation and struggle blared defiantly from the boom box. The crawl, covering a quarter of a mile, took roughly two-and-a-half hours to complete. The action began at Fulton and South Oxford and ended, in front of BAM (Brooklyn Academy of Music), smack dab in the middle of the Dance Africa street festival. Despite not having any legal permits, the NYPD nevertheless blocked off three busy intersections to allow my passage.
Work documented by: David Ian Griess and Sergio Palacios
Sponsored by: GES