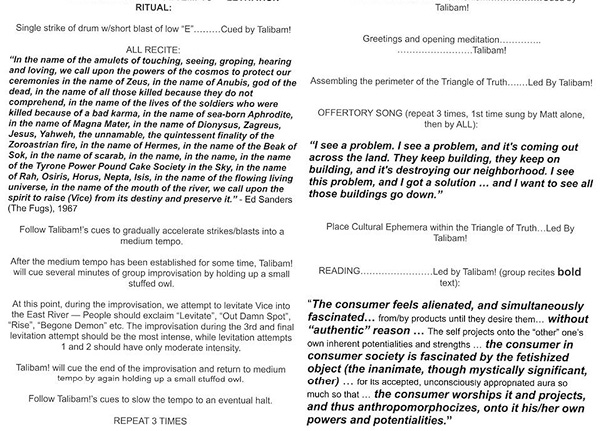 Kevin Shea
TALIBAM! PUBLIC ASSEMBLY # 1 - LEVITATION OF VICE MEDIA INTO THE EAST RIVER
first performed on March 3, 2015
Vice Media HQ, Williamsburg, NY
performed once in 2015
TALIBAM! / MATT MOTTEL, KEVIN SHEA
youtube.com/talibambam / talibam.bandcamp.com
NYC / LA
756822574t756822574a756822574l756822574i756822574b756822574a756822574m756822574b756822574a756822574m756822574@756822574g756822574m756822574a756822574i756822574l756822574.756822574c756822574o756822574m756822574 756822574m756822574m756822574o756822574t756822574t756822574e756822574l756822574@756822574g756822574m756822574a756822574i756822574l756822574.756822574c756822574o756822574m
TALIBAM! PUBLIC ASSEMBLY # 1 - LEVITATION OF VICE MEDIA INTO THE EAST RIVER
TALIBAM! / MATT MOTTEL, KEVIN SHEA
EVERYONE IS A PARTICIPANT IN LIFE

COME WITH OPEN MINDS & INSTRUMENTS

3/3/2015

90 NORTH 11th STREET, 

WILLIAMSBURG

REHEARSAL: 2:34pm 

LEVITATON: 3:35pm

Inspired by past Public Action which combine public assembly, performance, and grand vision, Talibam!, joined by a mass ensemble, attempted to levitate Vice Media's office, personnel, and the building itself into the East River.
Inspired by the FUGS levitation of the Pentagon in 1967, we used the performative action of ridding negative spirits from their point of origin to respond to the way in which diverse communities have been poached, appropriated, glamorized against their will, and forcibly removed.
Sprits of the displaced and dormant creative energies underneath the Williamsburg waterfront communities will regenerate.