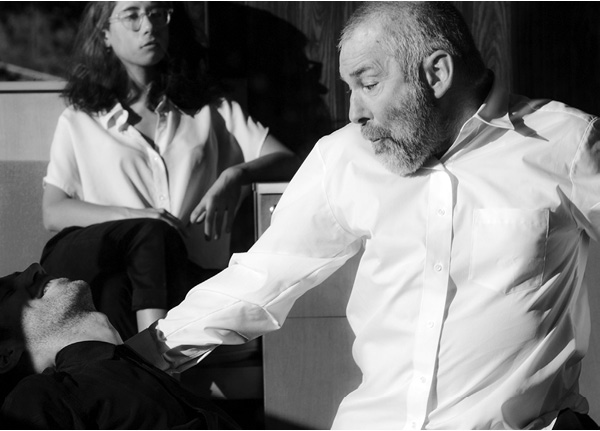 Milan Zrnic
VDL RESEARCH HOUSE II
first performed on January 31, 2015
PG4S AT VDL Research House II, Los Angeles, CA
performed once in 2015
STEPHEN LICHTY / NEIL MARCUS / DAPHNE HONMA
Brooklyn, NY / Berkeley, CA / Los Angeles, CA
761749245n761749245e761749245i761749245l761749245.761749245m761749245a761749245r761749245c761749245u761749245s761749245@761749245g761749245m761749245a761749245i761749245l761749245.761749245c761749245o761749245m
en.wikipedia.org/wiki/Neil_Marcus
VDL RESEARCH HOUSE II
STEPHEN LICHTY / NEIL MARCUS / DAPHNE HONMA
The performance took place during the golden hour in modern architect Richard Neutra's VDL Research House II. The house was built in 1932, razed in 1963 after a fire and was rebuilt in 1964. The house overlooks Silverlake in Los Angeles.
The audience entered on the ground floor where pianist Daphne Honma performed exercises in whole tones and pentatonic scales. After the audience ascended a staircase to the second floor, Honma flooded the house with sound, playing an impressionist piece by Maurice Ravel, "Jeux d'eau." On the second floor the audience settled into the living room, where Neil Marcus and Stephen Lichty performed a dance. Marcus and Lichty have both directly experienced dystonia, a neurological disposition that causes involuntary movements, muscle contractions, twisting, repetitive motions, and corresponding mental intensities. The artists poeticized this dystonic noise, redirecting intensities to different parts of their bodies, minds, and at the house itself. This dance was entangled with powerful ambient qualities of the light, space, time, and audience.
I have two things to say about this performance. The first is that it was already done before we began preparing. The second is that it happened, but was very difficult to locate.

— s lichty
k, ok. i get the idea. Art. show up. you are there!
an art sho in multiple locations in la's art week and we are the only performers? well, im hesitant. i can barely move due to pain. i have a broken heart. it's a six-hour drive. we have no script. ok. im in. beginning a route 5 drive down… i never knew it was hours of almond groves. mmile after mile. the sho begins. very soulful piano notes beginning in basement. wafting up to first floor. me waiting feeling watching as audience trickles in. we are stilll, we are moved, like in a warm colorful sea. to me this was the essence of performing. as sun sets sets sets, light. sound. human essence. beauty. full views

— n marcus