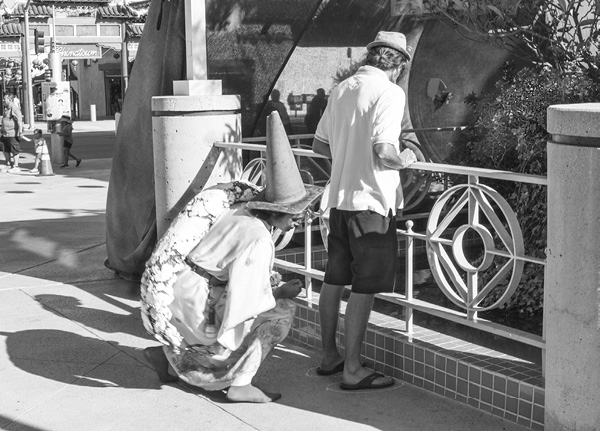 Lindsay Bloom
DUNCE EXTENDED + SERVITUDE!
first performed on July 26, 2014
Chinatown, Los Angeles, CA
performed once in 2014
ANGIE JENNINGS
San Diego, CA
285069215a285069215n285069215g285069215e285069215l285069215a285069215m285069215i285069215c285069215h285069215e285069215l285069215l285069215e285069215j285069215e285069215n285069215n285069215i285069215n285069215g285069215s285069215@285069215g285069215m285069215a285069215i285069215l285069215.285069215c285069215o285069215m
angelajennings.tumblr.com
DUNCE EXTENDED + SERVITUDE!
ANGIE JENNINGS
During Perform Chinatown: Chaos REIGNS! LA's annual gathering of performances, I decided to extend a previous "Dunce Performance" addressing issues of hierarchy, the phallus, gender constructs, race (I am mixed, black and white), knowledge and labor. For Chinatown there was an added addition of servitude and dress!
I roamed the pedestrian walk ways of Chinatown wearing an oriental pink floral robe, red tights on my legs, a diamond ring napkin holder tied around my forehead with a pink shoelace, a pink construction cone worn as my cap and a 25 lb hay-net barrier covered in plaster, which I carried throughout the four-hour duration. During my promenade I used white chalk to trace onto the concrete bodies of pedestrians and showgoers along with fixtures and objects, all the while holding the barrier crumbling and leaving its trail. I bowed and kneeled politely at times with the accompaniment of Twinkle Twinkle Little Star playing through a toy microphone that was attached to my hip.
Towards the end of the performance I began simply outlining the crevasses in the cement with chalk. While outlining, a male musician played pop music next to me and a small crowd enjoying the music stood to the right. I ended the performance by planting the barrier next to my styrofoam bust of the Roman emperor Caligula and used a broom to sweep away the debris left behind including plaster bits and hay. I used a bucket of water and a yellow sponge to wash the chalk off the cement. The feet of my red tights were torn by the concrete. And my right ankle gave out during the last hour of the performance due to the added weight of the barrier combined with the act of kneeling.