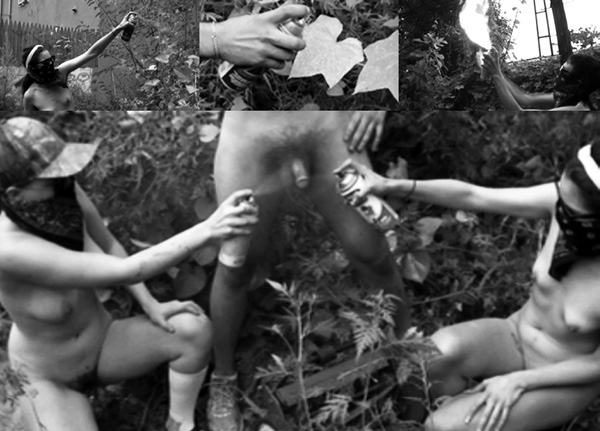 Madeleine Moriarty
MASS ARCADIA
first performed on July 4, 2014
Outdoors, New York, NY
performed once in 2014
MILES PFLANZ
Sean Berman, Nick Broujos, RVL, Zoe Wardlaw
New York, NY
799552560m799552560i799552560l799552560e799552560s799552560p799552560f799552560l799552560a799552560n799552560z799552560@799552560g799552560m799552560a799552560i799552560l799552560.799552560c799552560o799552560m
youtube.com/user/milespflanz
MASS ARCADIA
MILES PFLANZ
Four naked youth spraypaint flora. The ground is already toxic, so why not demand explosive color of greenery? In their exuberance, they spraypaint their genitals.
Nature must be appropriated for both subsistence and aesthetics. Paradise is vandalism. A conspiracy to insert oneself into the big picture that leaves Krylon dripping from every surface. Make anywhere Eden, a reprieve from storm and survival.
We notice an old IRAK tag and post the video on PornHub later.