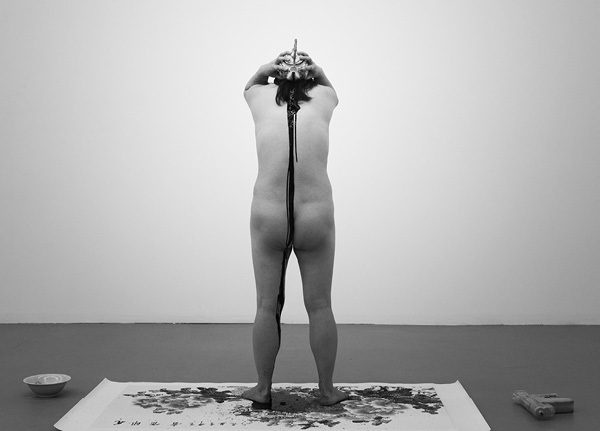 Tanya Doody
THE LOST TWELVE YEARS
first performed on June 24, 2014
ENCUENTRO 2014 at Centre Phi, Montreal, Canada
performed twice in 2014
CHUN HUA CATHERINE DONG
Canada
THE LOST TWELVE YEARS
CHUN HUA CATHERINE DONG
Performance steps:
step 1. I slightly bend my head to right, pinching my forehead with water until a dark red dot appears.
step 2. I continue pinching my forehead while bending my body with tension.
step 3. I pick a porcelain spoon in the bowl and scratch my neck firmly with the spoon until a dark red line appears from my lower chin to upper chest.
step 4. I posit the teapot on my head, pouring ink from the teapot to my arched back to create a line. After the ink is gone, I straighten my back and stand still. I suddenly shake my head; the teapot smashes to pieces.
step 5. I kneel on the painting, lift the water gun and point to my head and shoot, and then I point to my heart and shoot. The shooting is gentle in the beginning but becomes gradually faster and faster. I repeat the action of shooting my head and heart until the ink in the water gun runs out.
This work examines the relationships between where I live, what I have lost and what I have gained as a racial minority. The piece is a ritual meditation, as the ink traditionally used as an artistic tool is used as a weapon upon myself. The gestures are political gestures. It is not only an apology for my twelve year absence but also a manifestation that reveals my urgent need to renew my lost tradition and culture. In this work, I baptize myself with Chinese ink to preserve my identity from self-transformation and self-assimilation, and to capture my stray soul in a foreign land.