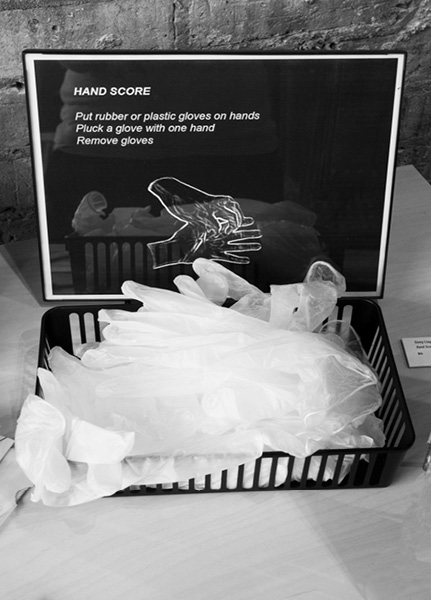 Curt Lund
HAND SCORE
first performed on February 7, 2014
Minnesota Center for Book Arts, Minneapolis, Minnesota
performed over 149 days in 2014
GINNY LLOYD
Jupiter, FL
174810204g174810204i174810204n174810204n174810204y174810204l174810204l174810204o174810204y174810204d174810204@174810204g174810204i174810204n174810204n174810204y174810204o174810204n174810204l174810204i174810204n174810204e174810204.174810204c174810204o174810204m
ginnyonline.com
HAND SCORE
GINNY LLOYD
Several FluXus scores were performed at the Fluxjob: Purging the World of Bourgeoisie Sickness Since 1963 exhibition. The score, titled "Hand Score," was performed by multiple visitors to the exhibit:
Put rubber or plastic gloves on hands

Pluck a glove with one hand

Remove gloves

I wrote this score as an exploration of interactive performance whereas the performers are the audience. They interact with the installation rather than with another performer or audience. I chose to include objects and instructions that held no inherent meaning except for in the imagination or experience of the performer. This provided room for personalized interpretation of the instructions and room to add their own actions.