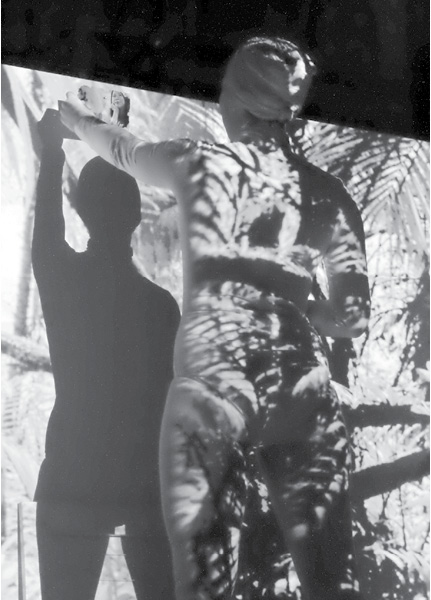 Luna Martinez
HABITUS: GREETINGS FROM AFAR
first performed on October 5, 2013
Boomhammer (project space/ 52 O Street Studios), Washington, D.C.
performed twice in 2013
JANE CLAIRE REMICK
Washington, D.C.
HABITUS: GREETINGS FROM AFAR
JANE CLAIRE REMICK
In "Habitus," a term I borrow from the field of sociology and Bordieu, I contrast the fundamental way that bodies exist physically in a space to the way relationship to an environment is informed by constructions, such as science and media. The work was initially conceived of as an exploration of conservationist approaches to the natural environment; nonetheless, it has a become less and less analytical and increasingly autobiographical. In "Habitus: Greetings from Afar," I'm trying to unravel the sources and meaning of travel experiences, which have dominated much of my adult life, especially as informed by tourist practices.
Dressed and painted in white, I allow my body to become camouflaged by projections of animated stock images representing seven different scientifically-classified ecosystems, which are also commonly promoted as tourist destinations. Simultaneously, I go through a collection of postcards and keepsakes, each one representing a specific travel memory. Next, I paint each object white, so that it is camouflaged by and disappears into the projected images. Ultimately, each memory, comforting or painful, is released and erased, leaving me with the question: what do each of these experiences in a "foreign" environment mean when they are absent of these constructed memories and object-representations?
I was asked to re-perform the piece several times, most notably at The Corcoran Gallery of Art for the 10th Annual Transformer Silent Auction. The ultimate goal of the event was to sell the performance; since "Habitus" is about obliterating textual/image-based/object-based relationships to place and memory, I had reservations about selling the objects generated by the piece. In the end, it was decided that the collector with the highest bid could then have the piece performed again at a later time.
Another concern came from the Corcoran Institution, who do not permit the use of paint in their museum. Initially a major obstacle, I overcame the problem by using sandpaper to remove the images and pigment from the postcards, and was ultimately more pleased with the process and result. When a piece is performance-based, a great deal of responsibility falls on the performer to advocate for the time, space and conditions that the piece requires. Nevertheless, that very dynamic nature of performance makes it invigorating to both the artist and audience. So, when looking at re-performing a piece, I came to appreciate how the circumstances forced it into a period of flux and growth.