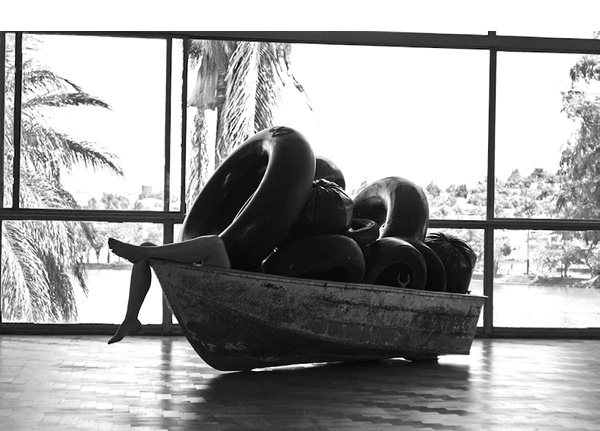 João Castilho
DOIS FRANCISCOS (TWO RIVERS)
first performed on August 9, 2013
Museu de Artes da Pampulha, Belo Horizonte, Brazil
performed twice in 2013
CHRISTINA FORNACIARI
João Castilho
Belo Horizonte, Brazil
082868002c082868002h082868002r082868002i082868002s082868002t082868002i082868002n082868002a082868002f082868002o082868002r082868002n082868002a082868002c082868002i082868002a082868002r082868002i082868002@082868002g082868002m082868002a082868002i082868002l082868002.082868002c082868002o082868002m
christinafornaciari.com
DOIS FRANCISCOS (TWO RIVERS)
CHRISTINA FORNACIARI
The performance piece reflects on the predatory exploitation of natural resources along the São Francisco River.
This enormous river runs through all Brazilian territory and, alongside its margins, all one can see is an altered, scarred and upset landscape.
In the piece, the performer lays down inside a boat with only her legs out, having her face and body covered with tires, tire air tubes and garbage bags. The piece lasts between six to eight hours, uninterrupted.