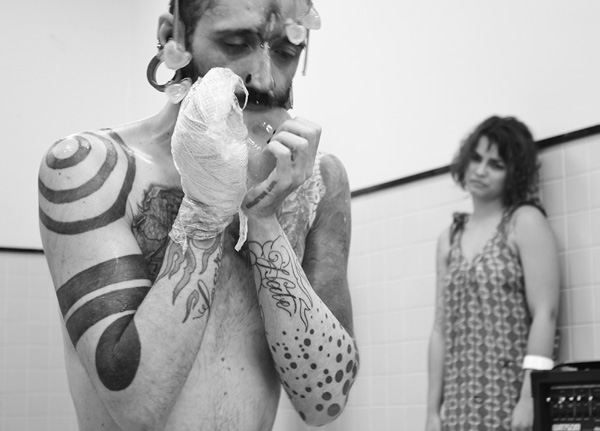 Maira Vaz Valente
HERE'S MY HEART IN MY HANDS
first performed on June 28, 2013
SESC Tocantins, Palmas, Brazil
performed once in 2013
T. ANGEL
São Paulo, Brazil

tang3l.com
HERE'S MY HEART IN MY HANDS
T. ANGEL
"Here's my heart in my hands" is a performance about those memories responsible for keeping us alive, like the blood running inside our bodies. It's a very symbolic and poetic work, a raw exposure of my heart and also a solitary dance of a restless mind.
I created some little ice cube hearts using water and my own blood. The action took place while the hearts melted over my body.
Some days before this performance, I had an accident at home and got second degree burns on my hand and my foot. My heart and passion were greater than pain, however, and I was still able to perform this work.