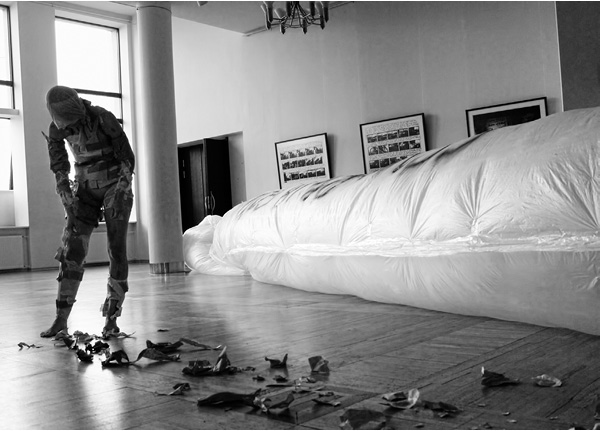 Wisa Knuuttila
TEAR
first performed on May 11, 2013
Endla Theatre, Pärnu, Estonia
performed 2 times in 2013
CHRISTINE OLSON
Lys-Ange LeBlanc
Madison, WI / Rovaniemi, Finland / Berlin, Germany

christineolsonart.com
TEAR
CHRISTINE OLSON
A performer is encased in packing paper. Making a task of tearing the paper and dispersing it in the space, and tearing at that as well. Underneath the performer is wearing pink crepe paper mashed to the skin, almost like a viscera or our inner makings. This process reflects a dream which I had where I was torn to bits. It also represents casting off a current form and taking on a new one. Also, I find tearing paper to be cathartic and stress-releasing.
Meanwhile, a naked performer is inside of a plastic tunnel. He is fed bits of the paper, lunges towards the audience, and later completely wraps the other performer in his plastic world.
Live music by Mathieu Sylvestre.