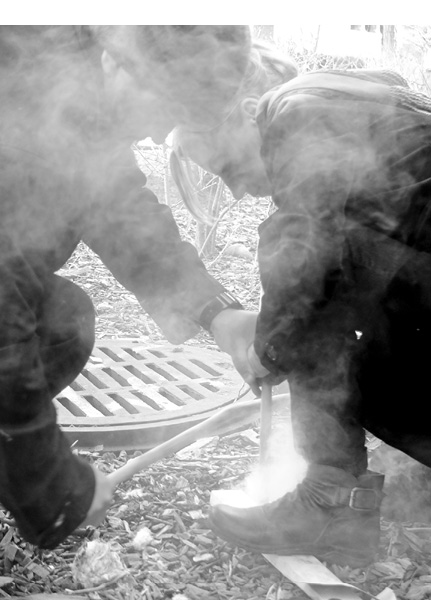 Golboo Amani
WHO IS THIS LAND AM I
first performed on April 23, 2013
adjacent to 1 Spadina Crescent, Toronto, Canada
performed once in 2013
PORTALS / ELYSE & EMILIO PORTAL
Toronto, Canada
434507620e434507620l434507620y434507620s434507620e434507620p434507620o434507620r434507620t434507620a434507620l434507620@434507620g434507620m434507620a434507620i434507620l434507620.434507620c434507620o434507620m
elyseportal.com
WHO IS THIS LAND AM I
PORTALS / ELYSE & EMILIO PORTAL
In response to the felt sense of the sacred, we worked in consultation with a group of local people who relate to the weather and waters as sentient.
Materials were assembled in response to observations and interventions in forested areas within a three-day walk of the Greater Toronto Area (GTA).
At the manhole nearest to the gallery, a written statement was read to the waters. Then we took turns creating an ember with a bow drill. After five or six failed attempts, we lit a tinder bundle and birch bark, which then ignited a candle. The candle was returned to a sculptural altar above the drain in the gallery floor.