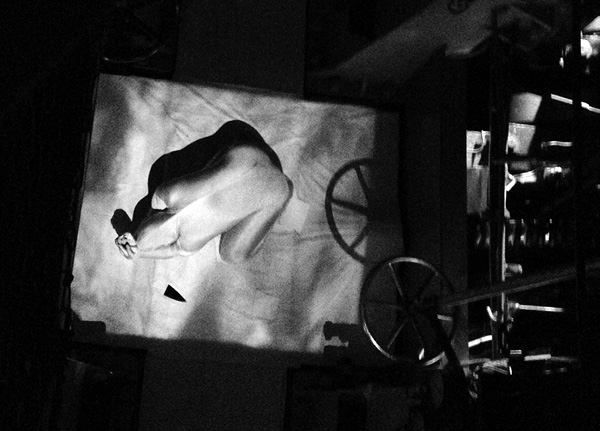 Phoebe Hart
EMOTO EXILE
first performed on November 29, 2012
engine room of the HMAS Diamantina, Queensland Maritime Museum, Brisbane, Australia
performed once in 2012
ONNIE ART / BONNIE HART
Jillian Dawson McFee
Brisbane, Australia
937327360b937327360o937327360n937327360n937327360i937327360e937327360@937327360f937327360c937327360m937327360c937327360.937327360o937327360r937327360g937327360.937327360a937327360u
ventinggallery.com
EMOTO EXILE
ONNIE ART / BONNIE HART
An expanded cinema performance featuring 16mm handmade film, sound/light installation and improvised performance.
This work explores the emotional disassociation manufactured by civilians towards refugees, asylum seekers and other victims of territorial or financial war zones. The cognitive dissonance generated by the (Australian) "national" subject remotely viewing the suffering and alienation of the "other" (object) in conflict zones or between contested boundaries creates a unique state of being—like an insulating conceptual plexiglass barrier. Seeking equilibrium, "Emoto Exile" ventures to transgress these constructions by placing the artist as an emotional exile under the direct gaze of the live-yet-transient studio audience.
Performed at the opening night of the 2012 OtherFilm Festival during the Seige Mentality event, on board the HMAS Diamantina, the performance is informed by the Diamantina's former career as an Australian wartime naval frigate, consummating the Japanese surrender of the Pacific island Nauru.
"Emoto Exile" was viewed by the audience from the upper balcony of the engine room and featured looped 16mm hand-tinted imagery of watery, speckled fragments of light jumping between the audience's feet from the surface of the engine room floor. Dressed in white, I swim down the projection surface as various imageries (a book, money, handcuffs) float between the audience's feet. Coarse hand-painted abstract film denotes my emotional state as I reveal mirrored eyes that reflect the projector's beam back at the viewing audience. Larger lengths of mirror are revealed and broken across my body, again the shards reflecting the light to the audience. With the broken mirrors come shattered illusion, bad luck, bloodletting.