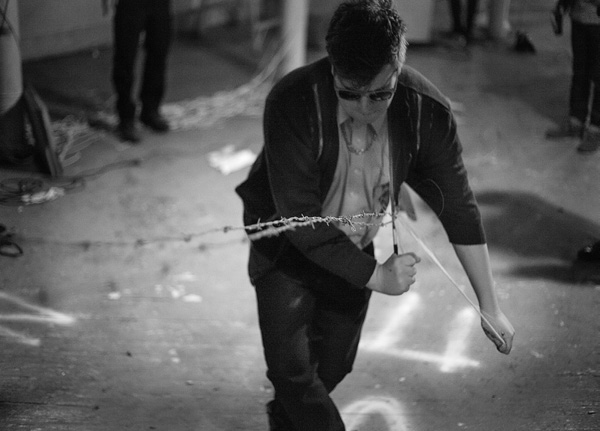 Laura Bluer
BORDER LUV 2ND EMISSION
first performed on November 6, 2012
Grace Exhibition Space, Brooklyn, NY
performed once in 2012
MILES PFLANZ
New York, NY
856742900m856742900i856742900l856742900e856742900s856742900p856742900f856742900l856742900a856742900n856742900z856742900@856742900g856742900m856742900a856742900i856742900l856742900.856742900c856742900o856742900m
youtube.com/user/milespflanz
BORDER LUV 2ND EMISSION
MILES PFLANZ
Boundaries played by a violin bow. Borders to scrape and hiss. Silent guards of property, fences are violence made form. A formalization of the social relations that necessitate them. Reification of social relations. The movement of history sublimated into an object and taken as objective reality, not the product of force. Displace fences and climb through. Are fences an indestructible form? A hole is a wink and nod. Take it out.
November 6 was election night in my country. A few hours later drone strikes in Yemen. The war profiteers have no boundaries even if they prop them up everywhere. Barbs for us who desire to live without boundaries. Factories are run and wars are fought, but the lovers still skip out to fuck. The command of fire and the division of resources are always undermined by a flood of come.
I played a Marvin and Tammi cover using horsehair and barbed wire that scraped the army of idiots who cheered during the acceptance speech.