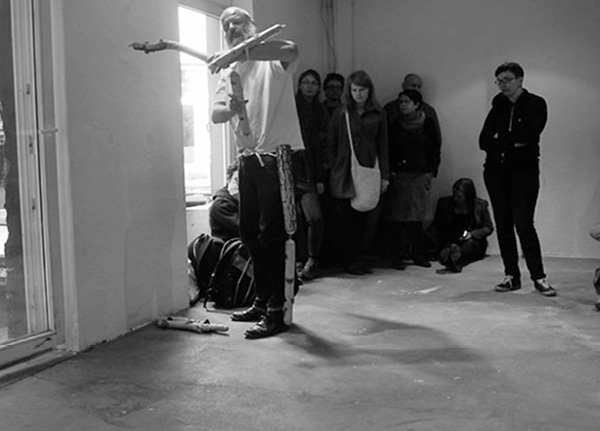 Anja Ibsch
BIRCH MAN
first performed on April 12–14, 2012
Paradigm Lost at INET Conference 2012, Berlin, Germany
performed ten times in 2012
JÖRN J. BURMESTER
Anja Ibsch, Joy Harder, Uwe Jonas, Florian Feigl, Otmar Wagner, Henrik Vestergaard Friis, Noah Holtwiesche, Francesca Romana Ciardi
Berlin, Germany
053202264j053202264o053202264e053202264r053202264n053202264.053202264b053202264u053202264r053202264m053202264e053202264s053202264t053202264e053202264r053202264@053202264g053202264m053202264a053202264i053202264l053202264.053202264c053202264o053202264m
joernburmester.de
BIRCH MAN
JÖRN J. BURMESTER
"Birch Man" began with a wearable exoskeleton I made from birch branches for a three-day performative installation/intervention at the Berlin INET conference in April 2012. The conference was hosted by the Institute for New Economic Thinking, and I made the outfit to add a trace of the unsalelable or un-accountable to the conference. Since then, I have worn it in a series of diverse performances. I am still in the process of discovering its specific properties.
While I am critical of performance art that strives to assume or adapt shamanic or magical powers, I am interested and even fascinated by, certain inexplicable properties of specific images, words and objects that defy rational explanation. The "Birch Man" is such an object. While I put it on, which is often part of the performances, I don't know or plan in advance what will happen. I don't move "Birch Man." He moves me. The actual pattern of events can be visual, like performing simple gestures very slowly or standing still for very long periods of time; sometimes sounds are emitted, chanting or rhythmic patterns emerge, and it is well-suited for performative walks in public spaces.
I have used "Birch Man" in group and solo performances of very different lengths and under different circumstances. All of these explore the specific situation the performance takes part in: space, time, audience, other performers, etc. No two performances involving "Birch Man" are the same.
It is in an ethnological spirit of observation, curiosity and experimentation that I wear the wooden suit of bones.