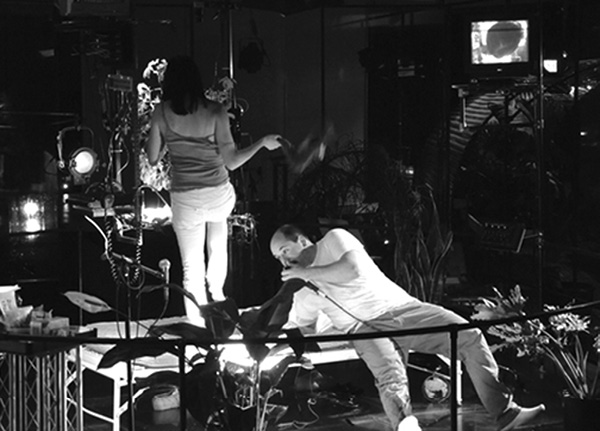 Josh Higgason
BOTANICA
first performed January 28, 2012
3LD Art + Technology Center, New York, NY
performed 20 times in 2012
JIM FINDLAY
Jeff Jackson, Joel Bassin, Ilan Bachrach, Chet Mazur, Liz Sargent, Jim Dawson, Rob Besserrer, Ryan Holsopple, Peter Ksander, Jamie McElhinney, Normandy Raven Sherwood, Jeff Sugg, Maurina Lioce, Josh Higgason
New York, NY / Charlotte, NC / Portland, OR
804423013i804423013n804423013f804423013o804423013@804423013t804423013h804423013i804423013s804423013i804423013s804423013b804423013o804423013t804423013a804423013n804423013c804423013a804423013.804423013c804423013o804423013m
thisisbotanica.com
BOTANICA
JIM FINDLAY
I.
250 living plants.
3 living humans.
1 performance terrarium.
20 gallons of water per day.
1 bag of chicken manure per week.
53 liters of oxygen created every hour.
II. Plant.
Container of universal consciousness.
Conduit of messages from distant quasars
encoded in photosynthetic cells. Receptive biorhythm mechanism for skirting the
space/time continuum. The watcher and receiver.
III. Plant.
Sexual and erotic object. Erogenous system of fecund roots and beckoning
leaves. A closed structure of unquenchable desire. The unattainable one. That
which can never be properly fucked.
IV. Plant.
The great destroyer. The dispenser of judgment. The annihilation of creation.
The transformation of all matter in its own perfected image.
V. Plant.
I am going to burn down the world. I am going to tear down everything that
cannot stand alone. I am going to shove hope up your ass. I am going to turn ideals to shit. I am going to reduce everything that stands to rubble and then I am going to
burn the rubble and then I am going to scatter the ashes and then maybe
someone will be able to see something as it really is.
VI. Ilan Bachrach, Chet Mazur, and Liz Sargent.
18 weeks in the terrarium. Probes, cameras, triggers, signal generators.
Watering. Pruning. Listening to the plants. Waiting for a message.
Inhalers of spores and munchers of dirt. The test subjects. Detritus.