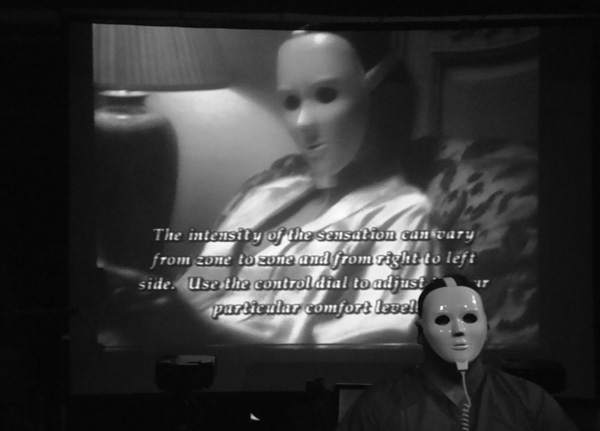 Tom Estes
REJUVENATION
first performed on April 28, 2011
The Courtyard Theatre, London, UK
performed once in 2011
TOM ESTES
London, UK
063507800i063507800n063507800f063507800o063507800@063507800t063507800o063507800m063507800e063507800s063507800t063507800e063507800s063507800.063507800i063507800n063507800f063507800o
luxurygoods.freevar.com
REJUVENATION
TOM ESTES
The "Rejuvenation Mask" is a "found object" originally marketed under the aegis of "Health and Beauty." While the face of the mask exhibits a kind of hieratic calm, on the back are tiny metal nodules that send electric currents into the face of the wearer. A commentary on the hidden and concealed nature of master narratives, the main conceit of this performance is that release from physical chains only results in the replacement of mental ones.
Electrical muscle stimulation (EMS), also known as neuromuscular electrical stimulation (NMES) or electromyostimulation, is the elicitation of muscle contraction using electric impulses. The impulses are generated by a device and delivered through electrodes on the skin in direct proximity to the muscles to be stimulated. The impulses mimic the action potential coming from the central nervous system, causing the muscles to contract. The electrodes are pads that adhere to the skin. EMS is both a form of electrotherapy and of muscle training. It has been cited as a complementary technique for sport training, and there is published research on the results obtained. In the United States, EMS devices are regulated by the U.S. Food and Drug Administration (FDA).
I staged this as a live art performance as part of "Luxury Goods V-The Illusion of Art." In 2008 I premiered the object "Rejuvenation Mask" at The RVC exhibition "Lust & Luxuria" as part of The Whitechapel Gallery, Late Nights.