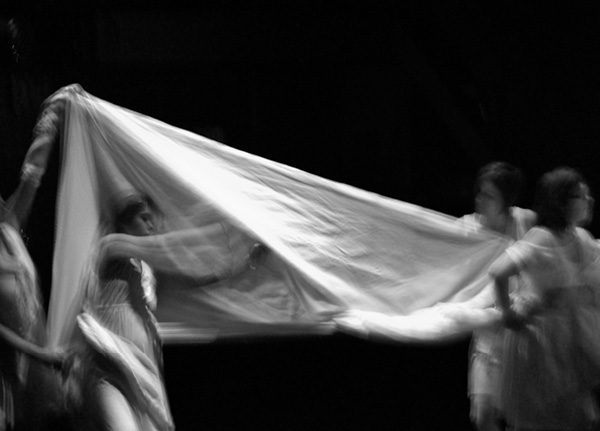 Peter A. Campbell
MEDEA & MEDEA / FOR MEDEA
first performed on February 17, 2011
Incubator Arts Project, New York, NY
performed eight times in 2011
RED HANDLE
Peter A. Campbell and Amanda Boekelheide
New York, NY
490570577p490570577e490570577t490570577e490570577r490570577@490570577r490570577e490570577d490570577h490570577a490570577n490570577d490570577l490570577e490570577.490570577o490570577r490570577g
redhandle.org
MEDEA & MEDEA / FOR MEDEA
RED HANDLE
"medea & medea/for medea" was a performance about the re-invention of choral modes as structuring devices to examine the intricacies of communication in the postindustrial world. Like the world it was meant to express, created by the struggles between nature and civilization, the piece used many disparate elements in a collage of works made by different female artists. It was also, as Medea always is, a piece about gender.
The chorus was both recorded and processed, and live and visceral. Using fragments from feminist historian Rebecca West and adaptations of the Medea story written by Sylvia Bofill, Kristin Worrall and Laylage Courie recorded choral odes out of one female voice. The physical chorus of four women infested the landscape with bodies like earth, bodies that conformed themselves to the contours but erupted when violated, elemental forces draping themselves over each other, and the space, creating the gestures of life, repeating them, making them anew.
And with this, text from the film Thelma and Louise, a modern-day story of violence by women, was spoken live. With a backdrop of projections of videos of the Meadowlands, a close and concrete manifestation of the postindustrial: a semi-preserved marshland overwhelmed by the sights and sounds of airplanes overhead, the turnpike, and the skyline of New York City.
So we watched a plane fly over the Meadowlands as the chorus women dangled on the edge of a large table at which two other women, our Medeas, drank from small bottles of Wild Turkey, while a voiceover that processed Laylage's voice into a distorted choral sound chanted West's words:
Art is not a plaything
but a necessity
and its essence
form
is not a decorative adjustment
it is a cup into which life can be poured and lifted to the lips and be tasted.
As writer and director I created these juxtapositions. I was thus playing the role of Ridley Scott, Euripides, and Jason before me, using the bodies, voices, ideas, and work of women to build and compose a world. But it was, and is, still their work, and whatever power it had was generated by the women who created and performed it. It was them you saw, and heard, and judged. Yet here I am, still writing about it as if it were my ruins, my landscape. As if I had the power to create it or destroy it.